QUEEN Still Reigns 20 Years On From FREDDIE MERCURY's Death
November 23, 2011, 8 years ago
Agence France Press, the third largest news agency in the world, have syndicated this piece by Robin Millard worldwide today having consulted with QUEEN Productions Ltd.:
FREDDIE MERCURY died 20 years ago on Thursday but his star has only burned brighter in the two decades since, with Queen and their larger-than-life frontman as popular as ever.
The British rockers, marking their 40th anniversary this year, are among the world's biggest-selling artists ever - with most of their sales coming in the 20 years since Mercury died.
Queen's guitarist Brian May and drummer Roger Taylor are busier than ever and Mercury's songs such as 'Bohemian Rhapsody' and 'Don't Stop Me Now' still endure as classics.
The Independent on Sunday newspaper said the singer's death "seemed a mere hiccup in his career".
In the years since, Mercury's stock has risen, with a new generation of artists citing Queen among their influences, including LADY GAGA, ROBBIE WILLIAMS, FOO FIGHTERS and MUSE.
Mercury, 45, died at his London home on November 24th, 1991. He had been diagnosed HIV positive several years earlier and died of bronchial pneumonia, brought on by AIDS.
Queen's lead singer is remembered for his captivating live performances, spellbinding vocals and enduring hits including 'We Are The Champions', 'Killer Queen', 'Crazy Little Thing Called Love'.
Read more at this location.
As Queen's 40th Anniversary year celebrations - begun earlier this year with the spectacular Stormtroopers In Stilettos exhibition – draw to a close, the band is to launch two limited edition 40th year commemorative sets which are certain to become among the most highly desired collectables among fans and gatherers of rock memorabilia.
Released November 28th, in limited edition and individually numbered sets of only 5,000 units worldwide – in reality 4,999 as in each case number 1 is being held back for charity auction, the two pieces are designed to be timeless reminders of Queen's iconic imagery and historic achievements as performers and recording artists.
Defining Queen's regal rule over the music record books of the past 40 years is the Queen Orb USB Gift Box: a luxurious black velvet lined gift box inside which is found a majestic golden orb emblazoned with a Queen logo and gothic designs. The top crest, modelled on the famous Queen logo, removes to reveal a USB drive containing all of Queen's 15 remastered studio albums in audiophile quality, and a photo gallery. Inside the orb lies a gold-plated Queen crest pendant necklace resting in a red velvet collector's bag. Audio content is provided in 48kHz 24bit WAV (better than CD quality!) and MP3 (320kbps) formats, fully compatible with PC and Mac.
Complete details at this location.
The Queen Live At Wembley Super Deluxe Gift Box Set is for anyone who has ever wished they might have been part of the back-stage crew at Queen's final and most famous London concerts, Wembley Stadium July 11th and 12th, 1986, played towards the end of the band's the Magic Tour which finished with the band's very last ever concert – Stevenage Knebworth Park , 9th August, '86 .
This box set comes in the form of a typical touring flight case, packed as full as your standard roadie's tour survival kit, with replica concert tickets and VIP passes, official touring shirt -in this case the "Magic characters" Hawaiian shirt, crew passes and stickers, regulation scarf for waving during the show, an inflatable Freddie cartoon character (based on the giant inflatable used in the stage show), and in case you might be an apprentice roadie learning the way, even a tour map, this one a 1986 tour map replica from the original hand-drawn by Brian May's father, Harold May.
And lest we forget why these Wembley shows are considered among Queens finest moments, the main attraction lays in 2 DVDs - the full shows each night July 11 and 12 with plenty of previously unseen bonus footage including secretly filmed footage of the band's tour rehearsals, plus two CDs of live recordings of the Saturday night show.
An instant kit to becoming a Queen roadie and to relive some of Queen's most glorious moments.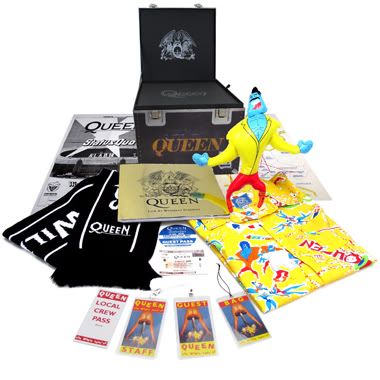 Complete details at this location.