QUEENSRŸCHE - Free Show Announced For Uncasville, CT
October 5, 2012, 2 years ago
QUEENSRŸCHE - featuring CRIMSON GLORY vocalist Todd La Torre behind the mic - have confirmed a free show for Uncasville, CT on March 30th, 2013. A message from the band is as follows: "This is a free show…however, show up early because once the venue fills to capacity they stop letting people in!"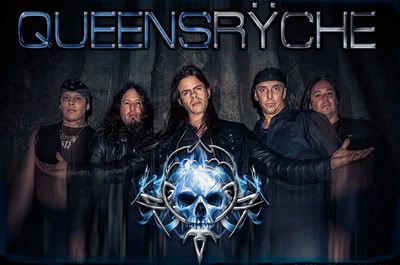 The band's tour schedule is now as follows: October 12 - Rock The Bay Festival - Corpus Christi, TX 13 - South Texas Rock Fest - San Antonio, TX 14 - Rocktoberfest - Lubbock, TX 19 - Chinook Winds Casino Resort - Lincoln City, OR 20 - Chinook Winds Casino Resort - Lincoln City, OR 27 - Snoqualmie Casino - Snoqualmie, WA November 24 - House Of Blues - West Hollywood, CA December 21 - Masonic Temple - Detroit, MI 29 - Marquee Theatre - Tempe, AZ March 8 - Bergen Performing Arts Center - Englewood, NJ 14 - Hard Rock Hotel & Casino Biloxi - Biloxi, MS 15 - The Ritz Ybor - Tampa, FL 16-20 - Monsters Of Rock Cruise - Fort Lauderdale, FL 30 - Mohegan Sun Casino - Uncasville, CT La Torre is featured in a new interview with Addie Rox at Tampa Bay's Mayhem Magazine. An excerpt is available below: Addie: A lot of your influence comes from Geoff Tate, what kind of influence do you think your particular sound will have? How will it be the same or differ from original Queensrÿche material? Todd: "A lot of the little crying inflections, or when you enter a phrase… Michael Sweet (STRYPER) does it a lot too. You know, he (Tate) has a cleaner voice than I have, even from my early teens I've had a little bit of a raspier voice but I can mimic… I don't like to say the word 'mimic' but I need to in order to properly do the songs the way they need to be done so I mean I struggle a little bit with staying clean because I'm used to doing a lot of the higher more metal, edgier type music. His is not so aggressive and in the music I sing with Crimson Glory it's heavier and vocals are dirtier and grittier so as far as, how would my sound or the new stuff sound, I think it will sound edgier and I have a tendency of wanting to do the (Rob) Halford style metal screaming where I think that they're wanting to tone that down. Maybe they think it's a little dated but there are times that I want to show the power and the metal side of it. Queensrÿche is metal but I think I'll lend a different texture." Addie: I mentioned that Tate is one of your influences… Todd: "Probably the biggest!" Addie: How do you feel about "replacing" one of your idols, Geoff Tate; is it bittersweet? Todd: "Well… the term that you are using is very delicate, to say the word 'replacing,' some would arguably say he is irreplaceable. I am in fact filling those shoes, that role, so it's probably a fair term although a lot of people for political correctness try to not use this. To be politically correct or to for professional courtesy I feel people are afraid to use that word because it will garnish criticism, but the fact of the matter is that is what it is. To be compared, to even be in the same breath as somebody who is probably the biggest influence vocally within the genre is surreal, but I feel like I've already been down this road with Crimson Glory because Midnight was a very highly revered singer and I've been kind of held to the fire on that. I'm not worried about the naysayers who are like 'Fuck this guy, Queensrÿche will never be Queensrÿche without Geoff Tate.' I respect that, I understand that, I'm a fan too so I won't criticize someone for that opinion but at the same time, and I don't know this from the members, but it's fairly evident that Tate is moving in a different direction, the music appears from an outsider looking in that it is not what the fans are really wanting, in my opinion. And so, maybe the fans expect the band to not do something but it's like, if I sound too much like him I'm being be labeled as a clone but I sound nothing like him then they'd say, 'This guy sounds nothing like what it should sound like!' so I'm damned if I do, damned if I don't. So I just say, I do the best that I can, 'Yes my phrasing is very similar to him,' it's going to be. If I was guitar player that just grew up on YNGWIE MALMSTEEN and PAUL GILBERT or MICHAEL ANGELO, it's going to be reflected in that playing. If you play like STEVE VAI, they are going to be on your sleeve." Click
here
for the complete interview.