QUEENSRŸCHE Frontman Geoff Tate - "You Have To Create Music You Enjoy, That Inspires You, Not Cater To Your Audience"
July 21, 2011, 6 years ago
QUEENSRŸCHE vocalist Geoff Tate is featured in a new interview with Legendary Rock. An excerpt is available below: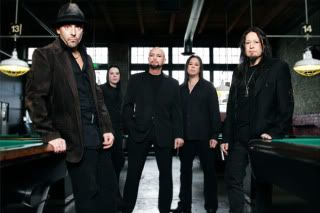 Q: I want to tackle a few of the misconceptions that people have about the band these days. I've seen and heard grumblings about some moves the band has made these last few years.....like the cover album or the Queensryche Caberet (adult themed carnival type show). Is it difficult for you guys to introduce different or novel concepts to a crowd that still consists of lots of the original 'headbanger's ball" core audience?
Tate: "No. It's been real easy (laughs). I really strongly believe that music is a personal journey for everyone. It is definitely a personal journey for the artist or composer, you're writing about how you feel the world or look at the world. You're utilizing your inspiration and craftsmanship to come up with ideas and compose songs. It's also a personal journey for the audience ideally. How they take it, and how they hear it, varies so much. One person we meet will love a song like 'Take Hold Of The Flame' from The Warning album and another person will not like any of that older material, but they'll like something like 'Della Brown' off the Empire album. It just varies so widely from person to person and you can't just use someone's opinion as a gauge because everyone enjoys things differently and everyone experiences things differently and personally. So.......what we've always done is we just write what we like you know?? We write what inspires us, we write what collectively is interesting to us and when we're done with it, we share it with the world and what they think of it or what they do with it, you never know."
"What we do know is that we don't ever wanna be in the position of where we're trying to cater to people, because once you start doing that you lose whatever it is creatively that was special about you to begin with. You have to create music you enjoy, that inspires you, not cater to your audience or you will totally lose your inspiration. Then it becomes totally a situation similar to clocking in to a job and putting in your hours, where you can't wait to be finished and be gone. None of us have ever been interested in feeling like that. We like to and we NEED to experiment and try new things as a band. From our perspective though, we hear just as many people liking the new material and new sounds as we do people who are into the old output. It's really hard, as artists for us to be subjective about our work and differentiate about the old versus the new and things like that."
"To get back to your original question though, yes the albums have to originally be 'for us.' They all have been; Rage For Order was for us, Empire was for us, the cover album you spoke of was for us. The covers album was all very well thought out and personal to us. They were all songs that were individually inspirational to us and we selected them from a very large pool of songs that we considered. That was the approach of that covers album, it wasn't to cash in, it wasn't to appease fans, it was for us. I don't mean any of this to sound arrogant, I'm just trying to tell you the truth. This is the way artists work. I know a lot of bands use the slogan 'We do it all for the fans' but it's not really 100% accurate, it's more of a marketing slogan (laughs)."
Click here for the complete interview.
Queensrÿche's new album, Dedicated To Chaos, landed at #70 on the Billboard 200, selling 8,000 copies in the US in it's first week of release. It landed at #121 on Canada's Top 200, and at #16 on Canada's Top Hard chart.
Dedicated To Chaos was released via Roadrunner Records/Loud & Proud on June 28th in North America. The tracklist is as follows:
'Get Started'
'Hot Spot Junkie'
'Got It Bad'
'Around The World'
'Higher'
'Retail Therapy'
'At The Edge'
'Broken'
'Hard Times'
'Drive'
'I Believe'
'Luvnu'
'Wot We Do'
'I Take You'
'The Lie'
'Big Noize'