Report: MINISTRY Cancels Paris Gig Mid-Show, Frontman Al Jourgensen Hospitalized
July 29, 2012, 5 years ago
The following is an excerpt from a report issued by Radio Metal out of France:
"Because of vocalist Al Jourgensen's alcohol problems, MINISTRY was forced to interrupt then later cancel its performance given this Saturday at the Bataclan in Paris, about 50 minutes into the show. Al Jourgensen was even taken to the hospital. The frontman came on stage rather intoxicated and was nearly unable to move throughout the performance. What a shame for Ministry fans who bought their ticket to, in the end, see the vocalist be painfully escorted off stage by the crew.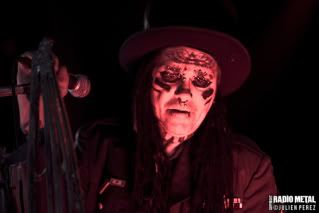 Al Jourgensen has reportedly been drinking heavily earlier in the afternoon.
Indeed, our photo gallery of the show, done by our photographer Julien Perez, depicts an Al Jourgensen who does seem really drunk. On the previous evening, on Friday, we saw Ministry's performance at the Léz'Arts Scéniques festival in Sélestat and, though the show was great, Al had the empty eyes of someone who, already, wasn't fully himself. Drinking a bottle of alcohol on stage, the vocalist did however manage to move, even if – assisted by a lot of samples – his voice was sometimes hesitant and his gestures were often vague."

Click here for the complete report.
As a result of the situation, Ministry will not play the Rock En Stock festival tonight (July 29th). Click here for details.