RHAPSODY OF FIRE, HAMMERFALL, GAMMA RAY And Others Featured On The Most Ridiculously Awesome/Awesomely Ridiculous Power Metal Album Covers List
July 13, 2011, 8 years ago
LA Weekly's Jason Roche reports:
Recently we examined the morbid side of the heavy metal genre. But not all metal bands want to remind you that people want to kill you. There are also plenty of bands that want you to forget about your worries and whisk you away to a faraway land and time (sometimes the Middle Ages, sometimes Outer Space, sometimes Something The Band Just Fucking Made Up Themselves) and let you know that while evil does indeed lurk out there, most of the time good will prevail over evil.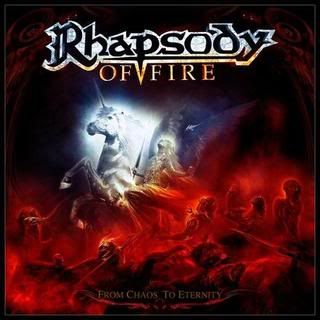 On the album cover for RHAPSODY OF FIRE's latest, From Chaos To Eternity, an avenging angel rides a unicorn and descends on hordes of the damned as they cross the plane to their eternal fate. Many of the bands in the power metal genre not only use their lyrics and music to let your mind wander to a faraway place, but they also lure you into that mindset with their album art.
On multiple occasions, batshit insanity enters the fray and helps shift a power metal album cover way beyond the generic fantasy barrier, as evidenced by the Top Ten Ridiculously Awesome/Awesomely Ridiculous Power Metal Album Covers.
Read more at this location.