RIVAL SONS Reveal Pressure & Time Album Artwork
April 21, 2011, 8 years ago
Californian blues-rockers RIVAL SONS have revealed the artwork for their forthcoming new album, Pressure & Time, due out via Earache Records on June 20th.
The album art was designed by legendary artist Storm Thorgerson, who is known for many iconic album covers from the likes of PINK FLOYD, LED ZEPPELIN, GENESIS and many more. Check it out below: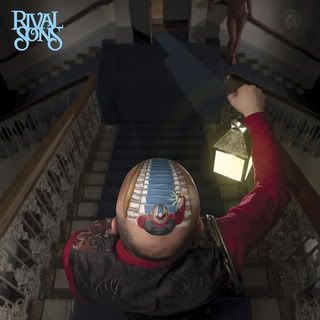 Storm Thorgerson discusses the artwork: "I don't think you can be certain what's going on here. To me it's a picture about fear or concern. Here's someone about to descend and doesn't know what they'll face, or where this might lead. So, in his mind he's imagining the action. That's what you see - into his mind, as he focuses on what's about to happen. When he gets to the bottom of the stairs, where does he go? Turn left, right or straight ahead - anything's possible. And I hope this cover will have fans of the band intrigued for a long while. To me, the cover should be part of the album, and not just packaging."
For Rival Sons guitarist Scott Holiday, working with Storm Thorgerson has fulfilled a childhood dream: "When I was 12 or 13 I'd go through my parents' vinyl, and I got to know his name and what covers he'd done. For me, he's one of the top three in his profession of all time. And I said from when I was 15 years old that one day I wanted to work with him."
The band are also planning to release a limited edition vinyl version of the album, which will feature different artwork.
Holiday continues: "We have enough ideas in the bag to make it really special. What we want is for people to look at the cover and regard it as part of the whole album experience. This is a lot more than packaging."
The track list for Pressure & Time is as follows:
'All Over The Road'
'Young Love'
'Pressure And Time'
'Only One'
'Get Mine'
'Burn Down Los Angeles'
'Save Me'
'Gypsy Heart'
'White Noise'
'Face Of Light'
Rival Sons will be joining JUDAS PRIEST and QUEENSRŸCHE for a full UK tour later this year, and have also confirmed a number of festival appearances, including a mainstage slot at High Voltage festival in London.
See Rival Sons live at the following shows:
July
2 - Werchter, Belgium - Rock Werchter Festival
3 - Arras, France - Main Square Festival
15 - Newport, UK - Newport Centre
16 - Manchester, UK - O2 Apollo
17 - Doncaster, UK - The Dome
19 - Glasgow, UK - SECC
20 - Newcastle, UK - Metro Arena
21 - Wolverhampton, UK - Civic Hall
23 - London, UK - High Voltage Festival
24 - Bournemouth, UK - BIC
Rival Sons recently released a new, self-titled digital EP, featuring six tracks of raucous, blues-infused rock. Get the EP now worldwide on iTunes at this location.
Listen to 'Torture', the incredible new single from the EP, below:
The official Rival Sons app is available now for iPhone, completely free. The app includes two free listenable tracks from the EP, along with the latest band news, photos, videos and more. There's also an exclusive secret teaser trailer for Pressure & Time.
Get the free official Rival Sons app now at this location.