ROB ZOMBIE Names New Temporary Drummer
February 7, 2011, 8 years ago
ROB ZOMBIE has issued the following update:
"Here's the first shot of Ginger Fish (MARILYN MANSON) backstage with Zombie before the first gig in Santa Cruz (on February 6th). Ginger is helping us out with some warm up gigs before we rejoin with Joey Jordison over in England for our next tour."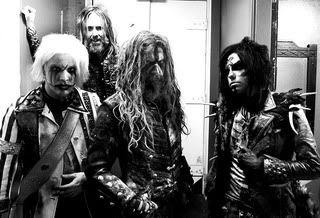 Jordison is currently on tour in The UK with MURDERDOLLS.
This comes on the heels of a report from KTVN.com earlier today stating that Rob Zombie has cancelled his sold out Reno Knitting Factory concert, scheduled for tomorrow - February 8th - due to an illness.
Knitting Factory Entertainment made the announcement Monday afternoon through a press release. All tickets are refundable at the point of purchase. Knitting Factory representatives say Zombie will return to Reno at a later undetermined date.