RUSH - Neil Peart Talks Inspiration Behind Taking Center Stage
December 28, 2011, 8 years ago
MusicRadar.com reports:
Here's the latest in our Christmas Best of the Blog treats, (RUSH drummer) Neil Peart tells you all about putting together his recently released Hudson Music DVD (Taking Center Stage: A Lifetime Of Live Performance). Below we have Neil's take on how he helped put the three-disc, seven-hour set together.
"My first instructional DVD with Rob Wallis and Paul Siegel of Hudson Music was called A Work in Progress, and the subject was composing drum parts and recording them. It was based around the making of Rush's Test For Echo album in 1995.
"Paul, Rob, and I enjoyed working together, and I felt it was a true collaboration, like the one I have with my bandmates, Alex and Geddy. In preparing for the shoot, the three of us exchanged dozens of notes and conversations, and while we were filming, we would get together between shots and discuss topics for discussion in the next one. Because it was filmed in the Catskill Mountains of New York State, in May, 1996, we had some nice outdoor settings for the parts where I was talking to the camera, and that made for a more 'scenic' program.
"Our second DVD together was Anatomy Of A Drum Solo, in which we examined different approaches to composing and performing solos. It was based on a live performance from Frankfurt, Germany, during the band's Thirtieth Anniversary tour in 2004. Once again, we were putting it together at a studio in the Catskills, and were able to take advantage of nature as a backdrop to my narrative parts."

Read more at this location.
Peart's instructional DVD, Taking Center Stage: A Lifetime Of Live Performance, was released on October 14th. In a preview clip, Peart discusses and performs the song 'Time Stand Still' from the classic Rush album, Hold Your Fire. Check it out below:
Taking Center Stage: A Lifetime Of Live Performance description reads as follows:
Filmed in various locations over the course of a year, Neil Peart takes you on a behind-the-scenes look at Rush's 2010-11 Time Machine tour. This includes rare and exclusive footage of Neil's personal pre-tour rehearsals and backstage events at a Rush concert (including a visit to the soundcheck, and an unprecedented backstage interview as Neil warms up for the show). Neil also presents a detailed look at every single song in the tour's set list. Each song features analysis and demonstrations by Neil, which are coupled with a detailed PDF eBook containing transcription of his parts. At the end of each song discussion, the viewer is transported onstage to a Rush concert to see the actual live performance of the song from the perspective of the drum cameras only. 6 hours, 40 minutes.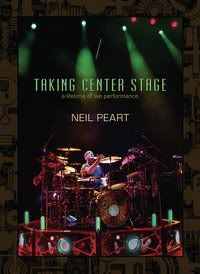 A preview trailer can be seen below:
A teaser website promoting the DVD was recently updated with a large photo gallery of behind-the-scenes pictures from the DVD filming, an informational page, and a four-part series of articles on the making of the DVD from lead editor and co-producer Joe Bergamini.