SAMMY HAGAR And GARY CHERONE Weigh In On VAN HALEN Comeback - "Of Course You Miss MICHAEL ANTHONY; He Was One Of The Four Food Groups"
March 7, 2012, 8 years ago
Michael Christopher at The Boston Phoenix recently caught up with former VAN HALEN singers Sammy Hagar (CHICKENFOOT) and Gary Cherone (EXTREME) for their takes on VAN HALEN's comeback, and the new album A Different Kind Of Truth. An excerpt from the report is available below: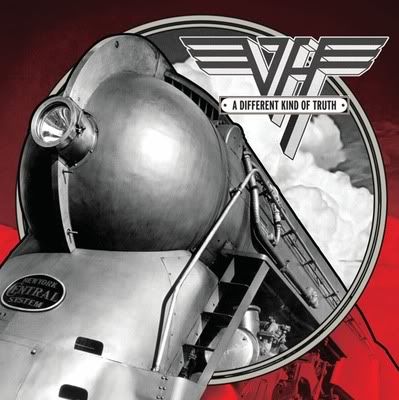 "This record, for me, it's the best thing since Fair Warning," Cherone says. "(First single) 'Tattoo' is the only misstep. You wait 28 years to hear Van Halen, and in the context of the record, it's not the best song by far. Off the top of my head, I'm thinkin' of 'China Town,' if that was the first thing you heard, or 'As Is,' or 'Honeybabysweetiedoll.' Any of those three? People would've been like, 'Are you fucking kidding me?' "
Hagar claims not to have heard the entire album. "I don't listen to much new music unless I hear a new song on the radio, and the last bands that did that to me were the Black Keys and Kings of Leon. When I heard 'Tattoo,' that single — and I saw the video because everybody kept sending it to me like, 'My god, have you seen this?' . . . 'Oh my god, you must be laughing your ass off!'— it wasn't a song that made me run out and buy their record. And so I haven't heard it. I haven't downloaded it, I haven't done anything. I heard another one that was kinda goofy too, and then I heard, on the radio, 'She's the Woman,' and I thought that was kinda cool. That one sounds like what I would expect from Van Halen, a little closer to it. The other stuff didn't sound like what I was expecting, that's for sure."
Then there is the matter of today's Van Halen playing only songs from the Roth catalog while on tour. Hagar says that it must be hard for Eddie and Alex to have to ignore a gaping section of their career. "The difference between Dave and I in that band, besides all the other million things, is that he can't sing any of the Van Hagar-era songs. Maybe he could do 'Finish What Ya Started,' possibly — so that makes it kind of weird for [Alex and Eddie] I think to take 11 years out of that thing."
Another sticking point for Hagar has been that about half the material on A Different Kind of Truth comes from old demos, several from before the first Van Halen record was released in 1978. But Cherone, who in addition to fronting Hurtsmile and a reignited Extreme – ready to celebrate the 20th anniversary of Pornograffiti with a tour of Japan and Russia, and possibly the States, later this year — looks at it differently.
"The starting point (for A Different Kind of Truth) was the old demos," Cherone says, "but to me, a riff's a riff. Eddie's added new things to it — this stuff is on fire. Of course you miss (ousted bassist) Michael Anthony; he was one of the four food groups. But Wolfie's no slouch. Alex is a machine, and Eddie is playing better than he's ever played. I love the record. It's kind of inspiring, it's like the king just took back his crown."
Go to this location for more.
Pro-shot footage of Van Halen performing 'Eruption' and 'Ain't Talkin' 'Bout Love' on March 5th at Wells Fargo Center in Philadelphia can be seen below:
Check out BraveWords.com's new photo gallery from Van Halen's show at the Mohegan Sun Arena in Uncasville, CT on March 3rd, at this location.
Van Halen's 2012 tour in support of their comeback album, A Different Knd Of Truth, kicked off on Saturday, February 18th in Louisville, KY. The Van Halen News Desk posted the official setlist for the night, which can be found below.
'You Really Got Me'
'Runnin' With The Devil'
'She's The Woman'
'Romeo Delight'
'Tattoo'
'Everybody Wants Some'
'Somebody Get Me A Doctor'
'China Town'
'Mean Street'
'(Oh!) Pretty Woman'
Alex Van Halen Drum Solo
'Unchained'
'The Trouble With Never'
'I'll Wait'
'Dance The Night Away'
'Hot For Teacher'
'Women In Love' (a first since 1980)
'Outta Love Again' (a first since 1979)
'Beautiful Girls'
'Ice Cream Man'
'Panama'
Eddie Van Halen Solo
'Ain't Talkin' 'Bout Love'
'Jump'
As previoustly reported, Van Halen singer David Lee Roth informed the Van Halen News Desk that the band is "totally okay with" fans shooting photos or video at the shows during their 2012 tour.
Van Halen's tour schedule can be found at this location.
Check out BraveWords.com's glowing review of Van Halen's A Different Kind Of Truth at this location.