SATAN'S HOST - 25th Anniversary Edition Of Metal From Hell Due Later This Year
June 7, 2011, 7 years ago
By Greg Pratt
Denver's SATAN'S HOST are part of a frustrating breed of band, a breed that have been around forever (first album = 1986 in this case), have at least one semi-famous dude in the mix (here, it's Harry "Tyrant" Conklin of JAG PANZER fame), play a weirdly satisfying blend of trad metal, black, and death (check), and toil away in obscurity despite releasing material on a shockingly regular basis (again, check). Hmm, well, okay, there is no breed of band that this describes: there's just Satan's Host. They're really in a league of their own, which is the result of a bunch of ol' dogs just putting their heads down and playing metal the way they love it.
"I really don't understand the 'traditional', 'black', 'thrash' labels," says drummer Anthony Lopez. "I've learned songs from all the albums and to me it's all [guitarist/songwriter] Patrick Evil music. It's his signature style and sound; we're just a metal band being true to our beliefs, feelings, our talent, and our vision; we don't really have any type of outside influence."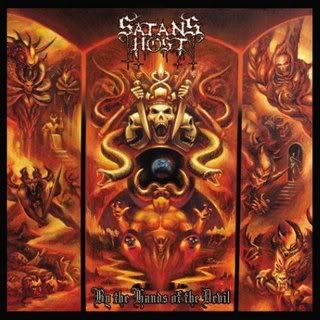 The main difference about Satan's Host's new one, By The Hands Of The Devil, and their last, '09's insanely named Power ~ Purity ~ Perfection ... 999, is that something old is new again, namely the return of Tyrant, who is back on vocal duties after a 20-year hiatus from the band.
"I think it's great having Harry in the band," says Lopez. "He brings the old spirit of the Host back that I thought was very present in the first two albums. Me being a newcomer, I have to say it's an honour to have such a personality with a golden voice in the band. Plus it's great having someone very versatile and easy to work with, with no hidden agendas and such (laughs)."
The meeting of the voice and the band sounds great, especially on tunes like 'Fallen Angel', which is so melodic and has such a classic feel to it that I suggest to Lopez that it kind of sounds like a glam power ballad about Satan, a unique proposition indeed, and one that is symbolic of the band's interesting sound in general. But does the band ever worry that this meeting of vibes, eras, and sounds might alienate some listeners?
"I think people alienate themselves on their own," says Lopez. "Metal isn't a by-product of any other style of music out there; to the contrary, it has many elements of other styles, predominantly classical and blues. I think the majority of the metal scene fell off the boat a long time ago, branching out here and there, which is fine—it's evolution. The problem is many bands are worried more about their visual appearance than really carrying on with the true aspects of the music."
And while fans' eyes are on the new album, the band is looking ahead. And this time around, the looking ahead involves a little looking back, as Lopez explains.
"We're writing music and working on lyrical ideas for a few new songs that will be appearing on the 25th anniversary edition of the [1986 debut] Metal From Hell album, which should be coming out later this year."