SCYTHIA Announce For The Bear Canadian Tour; 'Sailor's Accolade' Track Available For Free Download
September 6, 2012, 6 years ago
Canadian purveyors of folk/prog metal, SCYTHIA, have announced their cross-Canada For The Bear Tour, that will kick off at their EP release show in Vancouver, BC on September 26th at the Rickshaw Theater, and will see the band venture east as far as Montreal, QC and back west over the month long tour.
Tour dates:
September
26 - Rickshaw Theater - Vancouver, BC
28 - Rockwater Grill & Bar - Golden, BC
29 - Mac Hall Ball Room (Noctis Festival) - Calgary, AB
30 - TBA - Medicine Hat, AB
October
2, 2012- The Zoo - Winnipeg, MB
5 - Rotillicious - Ajax, ON
6 - TBA - North Bay, ON
7 - Montreal, QC - Foufounes
11 - Coaches and Horses - Windsor, ON
13 - Corktown Pub - Hamilton, ON
15 - Crocks - Thunder Bay, ON
17 - TBA - Regina, SK
18 - Lepps - Saskatoon, SK
19 - Rendez Vous - Edmonton, AB
20 - Branding Iron - Armstrong, BC
Scythia's For The Bear EP is due out on Septmeber 25th. The band are offering fans a free download of their first single, 'Sailor's Accolade', at this location. The track is streaming below:
Vocalist/guitarist Dave Khan states: "Scythia is proud to present the artwork and more for our upcoming release. The artwork was painted by the talented Mika Harju of Finland, he has experience designing metal albums before and we needed something tough and harsh looking to capture the intensity of the music. As you can imagine, it probably doesn't get much tougher than duelling barbarians from atop a bear in the dead of winter."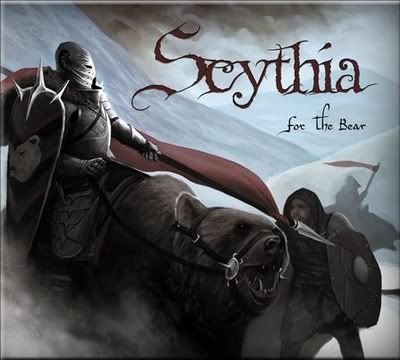 For the Bear EP tracklisting:
'Sailor's Accolade'
'Fierce Riders Of Scythia' (remix)
'For The Bear'
'Black Death' (remix)
'Dies Irae Pt. 1' (remix)
'Mattawa Reel'
'Video Game Medley'
More on Scythia at this location.