SCYTHIA Reveal New EP Details; Teaser Posted
August 17, 2012, 6 years ago
Canadian purveyors of folk/prog metal, SCYTHIA, reveal to fans a sneak peak of their latest sonic attack, For The Bear, due out on Septmeber 25th.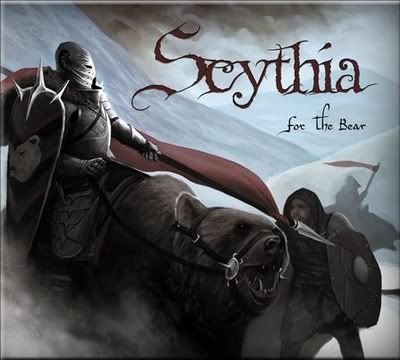 Vocalist/guitarist Dave Khan states: "Scythia is proud to present the artwork and more for our upcoming release. The artwork was painted by the talented Mika Harju of Finland, he has experience designing metal albums before and we needed something tough and harsh looking to capture the intensity of the music. As you can imagine, it probably doesn't get much tougher than duelling barbarians from atop a bear in the dead of winter. We are also including a teaser track that gives a little prelude of the sonic intensity that accompanies this imagery."
Scythia will be unleashing For the Bear this fall (date soon to be announced). The short, but sweet seven-track EP departs from the orchestration and central concept of its predecessors, instead representing a leaner, faster, sharper folk metal machine.
Tracklisting:
'Sailor's Accolade'
'Fierce Riders Of Scythia' (remix)
'For The Bear'
'Black Death' (remix)
'Dies Irae Pt. 1' (remix)
'Mattawa Reel'
'Video Game Medley'
More on Scythia at this location.