SEBASTIAN BACH On Writing New Music - "I Am Trying To Give You More Of What You Expect Of Me"
January 20, 2013, 4 years ago
Vocalist SEBASTIAN BACH is featured in a new interview with Dru Willis at The State Journal-Register. An excerpt is available below: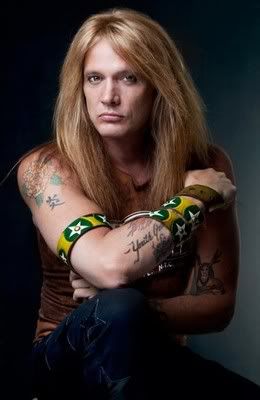 Bach said he frequently thinks about how lucky he is to create music and aims to always take the bull by the horns when it presents itself — be it for his last studio album, Kicking and Screaming in 2011, going on tour, or starting work on new project due this year.
Kicking and Screaming did well, reaching No. 73 on The Billboard album chart, No. 15 on the Billboard rock albums chart, No. 10 on the Billboard independent albums chart, and No. 6 on the Billboard hard rock albums chart.
On March 26th, Bach will release the live CD/DVD combo, "Abachalypse Now."
"I consider myself lucky to even be making CDs and DVDs," he said, remarking on how the CD section at stores has dwindled.
Creating an album is what Bach loves and the new disc will just be a continuation of the collection of work he has already recorded.
"I am not trying to reinvent rock 'n' roll music. I am trying to give you more of what you expect of me," he said. "That's why I look up to bands like RUSH, NEIL YOUNG and AC/DC ... they keep making albums and keep rocking and that's what I am going to do for the rest of my life."

Go to this location for the complete interview.
As previously reported, CAMP FREDDY - featuring Dave Navarro and Chris Chaney of JANE'S ADDICTION, Matt Sorum from GUNS N' ROSES, Billy Morrison of THE CULT, and Donovan Leitch - performed at The Roxy in Hollywood on December 20th, 21st and 22nd, 2012. On Friday night (21st) the band were joined by ZZ TOP's Billy Gibbons, DEF LEPPARD's Vivian Campbell and Sebastian Bach.
Bach checked in with an update:
"Yes, someone got it! 'Mountain Song' is my favourite song I have ever done with Camp Freddy (next to 'Whole Lotta Love' once, but that was special). To do ''Mountain Song' with Dave and Chris from Jane's Addiction was mindblowing! I really got off on this jam!! The JOURNEY tune sounds pretty cool too!"
Check out the footage Bach is stoked about below: