SLAYER's World Painted Blood Dissected
September 1, 2009, 8 years ago
By "Metal" Tim Henderson
I can proudly say that I've been part of the Slayer "club" since 1983, although I will admit I hesitated buying Show No Mercy cuz of the album artwork - remember the era when you'd walk into a record store and choose just by cover alone and overlook the ones just below par? Yup, over 26 years of Slayer addiction, from vinyl, cassette to CD to MP3. So a new release from arguably heavy metal's greatest act is a trembling, near-tearful occasion. Can't think of many bands like this where you can sense a strange, mystical, malevolent energy in the air when there's talk of new material.
But I'm still rather shaken and not stirred by the weak links that made up Slayer's last album, 2006's Christ Illusion. The great heavy metal band pretty much faltered. But that was in my eyes. The record hardly tanked. It pushed the California thrash legends further into the masses. Why? Cuz people crave Slayer. Yes, some of us are addicted to Slayer. And we need something to depend on. And even if they stumbled on Christ Illusion, it hardly chinked their armour. And any Slayer album can put at bay the varied mounting pressures of life. Escape isn't a strong enough word. While they continue to change the face of extreme music, Slayer's throne remains untouched.
It's pretty amazing that we're talking about a new Slayer album so soon. But here we are… the self-confessed "lazy" four-piece have put their collective thinking caps on to create the jaw-dropping World Painted Blood. But there's no 060606 hype this time - that reality seemed to be larger than the Christ Illusion itself.
World Painted Blood isn't all surprise, as we've been greeted with two new Slayer tracks over the past few months - 'Psychopathy Red' and 'Hate Worldwide' (both streaming below) - speedy numbers, which kinda sets the tone for the entire album. But it ain't all about speed this time around, rather an adventurous lesson in violence, not straying far from their chosen path. Ah, the relief!
World Painted Blood easily sits beside Slayer's greatest works of dark art. More remarkably, this is not Reign In Blood or Seasons part II. It's a giant leap for these aging thrash legends over 25 years into their career. Where Christ Illusion may have appeared rushed, thrown together last minute and a virtual Kerry King metalcore fest, World Painted Blood emerges unblemished and revolutionary. Every metal band on the planet needs to step back and take a deferential bow. Slayer make METALLICA and MEGADETH cower. Death Magnetic and Endgame are worthy of applause, but neither can touch this output. Here's a track-by-track run-down of the record we are all salivating for:
'World Painted Blood'
Music: Jeff Hanneman
Lyrics: Jeff Hanneman and Tom Araya
Fave Slaytanic lyric:
"Like a disease spreading death
Erasing your existence
Satan's hand begins the end
And frees the world forever"

The daring title track leads off World Painted Blood with a military drum roll and backward masked/blurted whispers, hard to decipher, but shivering nonetheless. Reminiscent of 'South Of Heaven' with its build-up, Hanneman/King combust with a frenzy and a repetition of riffs which collide with a trade-off of leads and frantic feedback midway through the song. Araya takes the troupe home with a wrathful lash of the tongue as mankind views its ultimate demise. And it's gloriously long with many paths tread upon. A challenging track to follow, but fans around the globe will rejoice in the band's daring vision.
'Unit 731'
Words and Music: Jeff Hanneman
Fave Slaytanic lyric:
"I am the last of the dying insane
You would scream at the things I've done
Knowing now that the dead still see"

'Unit 731' runs 2:30 and is a blistering barrage led by Lombardo's tornado-isms, stopping and starting on a dime. Hanneman's lyrics are blood-curdling and maniacal. Easily nestling beside 'Silent Scream' and 'Necrophobic', this is familiar territory for the cranium crowd. Unit 731 was a biological and chemical warfare research and development unit of the Imperial Japanese Army that undertook lethal human experimentation during the Second Sino-Japanese War (1937 - 1945). Once again a very serious topic is unearthed and able to roam free as music while we learn about society's unforgivable shortcomings. Trust me, the music is as serious as the topic at hand.
'Snuff'
Music and Lyrics: Kerry King
Fave Slaytanic lyric:
"Murder is my future
Killing is my future
Torture, misery
Endless suffering
Pleasing to the eye
To this you can't deny "
Slayer mean business - 'Snuff' is just as velocity-filled as 'Unit 731' but with King's patented prowess as the track leads off with a barrage of solo work. Almost catchy as the chorus slows down to a gruesome grind until Lombardo picks up the pace again. Producer Greg Fidelman has managed to harness the speed with utmost clarity. But the most striking moment is the final carpet call where Araya is screaming "Murder is my future, killing is my future." Chilling.
'Beauty Through Order'
Music: Jeff Hanneman
Lyrics: Jeff Hanneman and Tom Araya
Fave Slaytanic lyric:
"Heated iron bar I will insert inside your cunt
Mistress of cruelty, a name that will not die
You are my sacrifice"

Possibly tops on the record, 'Beauty Through Order' commits to a mountainous mood of somberness, an example of what was missing from Christ Illusion. And alas this is yet another Hanneman composition which takes us through peaks and valleys of doom, death and destruction. Certainly the censors will perk up with such lyrical fodder, but this is where Slayer rules supreme, not to mention the closing bars of "My birthright, is murder." Hanneman and King rule supreme on this cut, embracing fast-picking with down-tuned lacerations. Controversial? Most certainly. A reflection of some sick reality? Absolutely. The finale ranks up with some of Slayer's most moving material.
'Hate Worldwide'
Music and Lyrics: Kerry King
Fave Slaytanic lyric:
"I stab you
Right between the eyes
You awaken from the lies I've said ever since its inception
They're the masters of deception"

Been sitting with this for a while - another King composition in its undisputed attitude! Yes, one for the punked pits of the world's dungeons. Relentless in its attack, the track places Slayer in a league above all - damn, they perfected this style of thrashing beauty in the mid-'80s, yet continue to build on its force and combustible energies. It's not just speed but the diabolical sentiments such songs conjure. You can feel the knife pierce your skin and crack bone within moments of turning on this machine.
'Public Display Of Dismemberment'
Music and Lyrics: Kerry King
Fave Slaytanic lyric:
"Unrest, Marshall law society decays
And it's safe to say there is no other way
With lawless arrogance and savage dissidents
Public display of dismemberment"

Do Slayer know something we don't? The band are firing on all cylinders and I get the feeling that the entire world will implode once World Painted Blood is finally unleashed. Yes, another speed demon, almost grindcore in nature, Lombardo's blast-beats cause contusions in just over two and a half minutes! The socio-political leanings of the song defines a state of unrest, or distress! And shouldn't this be a Cannibal Corpse title?
'Human Strain'
Music: Jeff Hanneman
Lyrics: Jeff Hanneman and Tom Araya
Fave Slaytanic lyric:
"Death stalking man thru peace, thru life, thru hatred of himself
Death stalking man as he embraces his crucifixion"

Finally time to breath? Not for long, but 'Human Strain' is modernized Slayer, Araya actually balancing the act of melody in his vocal swath. No doubt Hanneman's visions for Slayer in 2009 may be a surprise to some, World Painted Blood is years ahead of Christ Illusion. Not the strongest track on the album by any means, but its worth is valid.
'Americon'
Music and Lyrics: Kerry King
Fave Slaytanic lyric:
"So here we live in a land of deceit
That imprisons the minds of the weak"

King reels about the "mother fuckin oil" in this rather timely, politically-inspired protest song. Lombardo's military precision is typical and the track is rather basic given the album's breadth and depth. No matter, its punchy intrigue and varied guitar work make 'Americon' passable, although probably the weakest of the lot.
'Psychopathy Red'
Music and Lyrics: Jeff Hanneman
Fave Slaytanic lyric:
"Body Count, laid mutilated
It's your time to die
Desolate, lure kill satisfaction
Climax with your death"

'Psychopathy Red was released as a 7-inch vinyl disc this past April 18th as part of the third annual Record Store Day. Hanneman's riffs of distress set the tone as the song puts you in maniacal mind of heinous Russian serial killer Andrei Chikatilo (a.k.a. the Rostov Ripper), who confessed to brutally murdering 56 children between 1978 and 1990. Such an extreme tale can only be matched by velocity - yes another speed demon, yet the result is untiring. If it ain't broke, don't fix it.
'Playing With Dolls'
Music: Jeff Hanneman
Lyrics: Jeff Hanneman and Kerry King
Fave Slaytanic lyric:
"I never thought the taste of you,
Would be the only thing to make me bleed
All alone in my funeral home
Playing in blood there's just got to be
Something wrong with me"

Another adventurous outing seeing Slayer push the limits of present while staring vividly at the past. Riff-wise, you're waiting for wee Angus Young to appear as AC/DC-like tapping leads mesh with Araya's quite harmonious hauntings throughout the track. Another topsy-turvy race to the finish, Araya proclaiming that "you wish you were in hell." Another example of a deviant creation from Slayer that works remarkably. Hanneman is on fire and you gotta wonder how fresh this material is or are they recent leftovers?
'Not Of This God'
Music and Lyrics: Kerry King
Fave Slaytanic lyric:
"False God, sorcerer, free thought torturer
Embedded in the minds of the masses
Outcast, conjurer, spineless provocateur
Engulfed in narcissistic madness"

The album closer is another frenzied King composition that hearkens back to Seasons or perhaps even to Show No Mercy's primal glory. And this is where Slayer excels, in bible-bashing and Christ-crucifying. Like any great record, the pending silence of it finishing must make you breathless and in awe. And World Painted Blood will have you panting... until you hit track #1 again.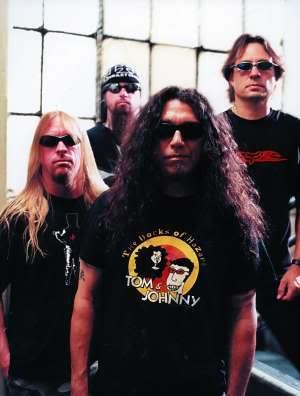 Sony Music Japan have confirmed an October 14th for World Painted Blood. American Recordings/Columbia Records will be announcing more worldwide release dates soon.