SOILWORK - Getting Dirty With Doctor Dave
September 5, 2012, 5 years ago
SOILWORK are currently in the studio with producer Jens Bogren (OPETH, AMON AMARTH, BLOODBATH) recording the follow-up to their 2010 release The Panic Broadcast. Entitled The Living Infinite, the album will also mark the recording debut of long-time touring guitarist David Andersson (NIGHT FLIGHT ORCHESTRA), who replaces Peter Wichers. In a new interview, vocalist Björn "Speed" Strid comments on Wichers' departure and bringing Anderssin aboard. An excerpt is available below: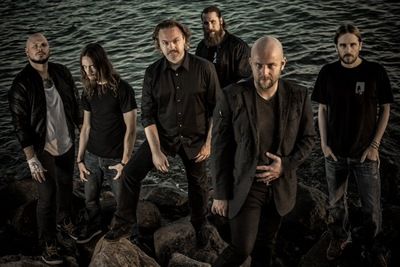 "It was a pretty natural choice to have Dave join Soilwork because we've toured with him a bunch of times before and we know him very well," says Strid. "He's a perfect guitar player for the band. You read in so many interviews when a band says 'Oh, we'll be fine, we'll be even better without that guy…' but I really believe it when I say the new album is going to be really, really strong. It's always hard to compare the new songs to previous albums, but I really couldn't see anyone other than Dave replacing Peter. People are obviously going to start talking about Sworn To A Great Divide (2007), which Peter wasn't on, but you can't compare the new one to that album because Ola Frenning (who left the band in 2008) played the guitars on that album and it was a totally different thing."
"I feel that the vibe in the band with Dave has always been really good," he adds. "When we toured last summer doing the festivals with him we didn't know Peter would be leaving, but we started preparing because we felt it. We were having fun together, which was a good sign. And, the fans had no problems with Dave being on stage; they loved what he was doing."
Go to this location for the complete story.

As previously reported, The Living Infinite will be a double album. Strid recently issued the following statement:
"So here's the scoop. Me and the boys have been waiting to share this for quite some time now: The Living Infinite will be a double album! A REAL double album, in the true sense of the word, which means no fillers and no left-overs. I've been wanting to do this for a while and I proposed the idea to the rest of the guys in the band, during our festival tour last summer.
"Everybody liked the title The Living Infinite and also the idea of working towards the goal of releasing a double album. David Andersson was already playing with us last summer, so he has also been a part of this goal from the start. I feel very excited and proud that we've managed to find the inspiration and dedication it takes to create somewhat of a conceptual double album, especially since it's dealing with a lot of existential questions.
"We would also like to reveal a brand new band shot by Hannah Verbeuren Photography (below). We are currently hard at work in the studio, putting this beast on tape. Things are sounding incredibly good so far. So excited about this and can't wait to share the awesomeness with you all!"
More on Soilwork at this location.