SPECTRUM ROAD - Members Of CREAM, LIVING COLOUR Unite For Album, Live Dates
February 23, 2012, 5 years ago
Billboard.com's David Greewald reports:
A new supergroup is heading to Bonnaroo. The festival will see the summer performance debut of SPECTRUM ROAD, a new quartet featuring Jack Bruce (CREAM), Vernon Reid (LIVING COLOUR), John Medeski (MEDESKI, MARTIN AND WOOD) and Cindy Blackman Santana (LENNY KRAVITZ, SANTANA).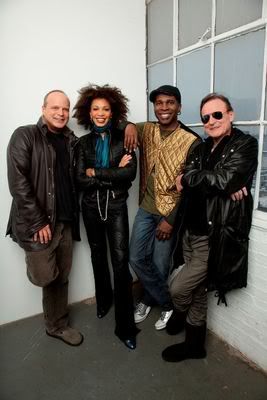 According to Reid, the group's been in the works for quite some time.
"To be able to play and record in this band alongside three of the most creative and stellar musicians in the world is a longtime dream come true," he said in a release. "The idea for Spectrum Road first came about in 2001 and it was the ongoing belief in the kind of record we knew we could make together that made it come to fruition."
The band's self-titled debut will land on June 5th, just before their June 9th Bonnaroo set. The festival appearance will serve as the launch of a US summer tour.
Read more at Billboard.com.
More on Spectrum Road at this location.