STEVE VAI Announces Tour Dates For UK; Tickets On Sale Now
August 7, 2013, 4 years ago
After an overwhelmingly enthusiastic response to the 90+ shows played so far on his Story Of Light 2013 Tour, legendary guitarist STEVE VAI has added an additional run of UK dates.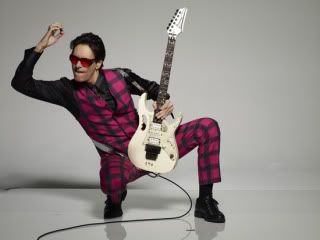 (Photo by Larry DiMarzio)
The tour promotes The Story Of Light, Vai's critically acclaimed solo album which Gibson.com says "finds him continuing to push the envelope as a composer, arranger and, most of all, as a guitarist who continues to raise the bar for himself and others."\" The record was released on Favored Nations Entertainment, the label Vai founded in 1999.
The Story Of Light 2013 Tour will feature a unique premium package - The Evo Experience - which includes a meet and greet pass, a Q&A; session with Vai, access to soundcheck, an exclusive EVO Experience laminate and other Vai merchandise items. These premium tickets will be available for purchase through Vai's website. Only a limited number of EVO Experience tickets are available for each show.
Vai's UK tour schedule is as follows:
August
29 - Belfast, Northern Ireland - Mandela Hall
30 - Leeds, UK - O2 Academy
31 - Glasgow, Scotland - O2 Academy
September
1 - Cardiff, Wales - St. David's Hall
3 - Bristol, UK - O2 Academy
4 - Bournemouth, UK - O2 Academy
5 - Brighton, UK - Concorde 2
Tickets are on sale now. Visit Vai.com for ticket links, the full list of all European dates, and other information.
Vai recently announced that he will return to the US in the fall for a 30-plus city for the The Story Of Light. Tickets and special EVO Experience packages, where fans get a look at what Vai experiences several hours before a show and get to hold an intimate and open group discussion with him, are already on sale and can be purchased at Vai.com.
Steve Vai tour dates:
October
16 – Santa Cruz, CA – The Catalyst
17 – San Diego, CA – House Of Blues
18 – Ventura, CA – Ventura Theater
19 – Las Vegas, NV – House Of Blues
20 – Chandler, AZ – Wild Horse Pass Casino
22 – Tucson, AZ – Rialto Theatre
23 – Flagstaff, AZ – Orpheum Theater
24 – Santa Fe, NM – The Lensic
27 – Kansas City, MO – Harrah's Voodoo Lounge
29 – Columbia, MO – The Blue Note
30 – Springfield, MO – Gilloz Theatre
31 – Council Bluffs, IA – Horseshoe Whiskey Road House
November
1 – Des Moines, IA – Hoyt Sherman Place
2 – Bloomington, IL – The Castle Theater
3 – Joilet, IL – Mojoes
5 – Columbus, OH – Newport Music Hall
6 – Indianapolis, IN – Egyptian Room
7 – Grand Rapids, MI – The Intersection
8 – Rama, ON – Casino Rama
9 – Cincinnati, OH – Bogart's
10 – Knoxville, TN – Bijou Theatre
12 – Chattanooga, TN – Track 29
13 – Birmingham, AL – Workplay Theatre
14 – Mobile, AL – Soul Kitchen
15 – New Orleans, LA – House Of Blues
16 – Baton Rouge, LA – Varsity Theatre
17 – Little Rock, AR – Juanita's
19 – Tulsa, OK – Cain's Ballroom
20 – San Antonio, TX – Backstage Live
21 – Austin, TX – Paramount Theatre
22 – Dallas, TX – House Of Blues
23 – Houston, TX – House Of Blues