STEVE VAI Looks Back On Passion & Warfare Album - "To My Surprise It Was Very Well Received"
October 20, 2013, 3 years ago
Legendary guitarist STEVE VAI recently sat down with Music-Illuminati.com to discuss various aspects of his long career. An excerpt is available below: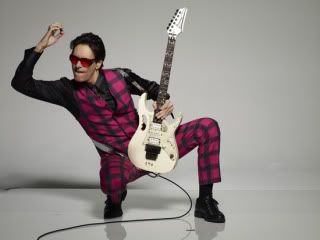 (Photo by Larry DiMarzio)
Q: What was the good, the bad, and the ugly about the "hair band" era?
Vai: "The good was that being a rock star in the '80s was perhaps the best era for that kind of thing. We got to wear the most outlandish clothes, have a massive stage show with tons of lights and props. We got to run around on the stage like maniacs, we got to throw totally outlandish parties every night, and we played our asses off. There was no bad or ugly for me."
Q: What are your reflections on your Passion & Warfare album?
Vai: "After all the rock star '80s stuff I knew I had to start making the music that was floating around in my head. I thought my career was over but I hunkered down and made that record and to my surprise it was very well received. It was a time of total creative freedom for me. Whenever we do something creative it's like a little snapshot of who we were at that time. Looking back I think it was a very brave and creative record to make but at the time it just seemed to be the most logical and natural thing for me to do."
Go to this location for the complete interview.
Vai's tour schedule is currently as follows:
October
20 - Chandler, AZ - Wild Horse Pass Casino
22 - Tucson, AZ - Rialto Theatre
23 - Flagstaff, AZ - Orpheum Theater
24 - Santa Fe, NM - The Lensic
27 - Kansas City, MO - Harrah's Voodoo Lounge
29 - Columbia, MO - The Blue Note
30 - Springfield, MO - Gilloz Theatre
31 - Council Bluffs, IA - Horseshoe Whiskey Road House
November
1 - Des Moines, IA - Hoyt Sherman Place
2 - Bloomington, IL - The Castle Theater
3 - Joilet, IL - Mojoes
5 - Columbus, OH - Newport Music Hall
6 - Indianapolis, IN - Egyptian Room
7 - Grand Rapids, MI - The Intersection
8 - Rama, ON - Casino Rama
9 - Cincinnati, OH - Bogart's
10 - Knoxville, TN - Bijou Theatre
12 - Chattanooga, TN - Track 29
13 - Birmingham, AL - Workplay Theatre
14 - Mobile, AL - Soul Kitchen
15 - New Orleans, LA - House Of Blues
16 - Baton Rouge, LA - Varsity Theatre
17 - Little Rock, AR - Juanita's
19 - Tulsa, OK - Cain's Ballroom
20 - San Antonio, TX - Backstage Live
21 - Austin, TX - Paramount Theatre
22 - Dallas, TX - House Of Blues
23 - Houston, TX - House Of Blues