Support STEVE VAI Live On Stage; Best In Shred Instagram Video Contest Launched
September 2, 2013, 4 years ago
Think you've got the chops to open for STEVE VAI? Sam Ash Music and Steve Vai are looking for America's best guitar players of all styles to compete in the 2013 Best In Shred Instagram Video Contest. The lucky finalists from each participating Sam Ash Music location will be chosen to perform in the Best In Shred Finals. The winners from each store will be awarded the Grand Prize: a chance to perform on stage at a Steve Vai show, including tickets for you and a guest to attend the event and meet Steve Vai backstage.
A total of 36 guitarists will have the opportunity to perform before a crowd of Steve Vai fans at one of these venues: San Diego House of Blues, Ventura Theatre, Las Vegas House of Blues, The Castle Theater, Mojoes, Newport Music Hall, Bogart's, The Egyptian Room, The Bijou Theatre, Track 29, Rialto, Orpheum Theatre, The Wildhorse Casino, Backstage Live, Paramount Theatre, Houston House of Blues, Dallas House of Blues, and Clicks.
Go to this location for full details.
Since its appearance in Guitar World in 1990, Steve Vai's intensive guitar regimen has been the Holy Grail for serious players. Here is the lesson that shaped a generation of guitarists. Vai sat down with guitarist/transcriber Dave Whitehill and outlined his practice routine for the January 1990 issue of Guitar World. Never before had a guitarist given such an in-depth explanation of his musical exercise regimen. It became a must-have for guitarists. Many of the players interviewed in GW have cited it as an influence on their development as guitarists. Here's a chance to experience the workout in its original form and to learn some of the things Vai has done to develop his formidable chops and remarkable music vocabulary.
In this book, Steve Vai reveals his path to virtuoso enlightenment with two challenging guitar workouts - one 10-hour and one 30-hour - which include scale and chord exercises, ear training, sight-reading, music theory, and much more. These comprehensive workouts are reprinted by permission from Guitar World magazine.
Go to this location to puchase your copy.
After an overwhelmingly enthusiastic response to the 90+ shows played so far on his Story Of Light 2013 Tour, Vai has added an additional run of UK dates.
The tour promotes The Story Of Light, Vai's critically acclaimed solo album which Gibson.com says "finds him continuing to push the envelope as a composer, arranger and, most of all, as a guitarist who continues to raise the bar for himself and others."\" The record was released on Favored Nations Entertainment, the label Vai founded in 1999.
The Story Of Light 2013 Tour will feature a unique premium package - The Evo Experience - which includes a meet and greet pass, a Q&A; session with Vai, access to soundcheck, an exclusive EVO Experience laminate and other Vai merchandise items. These premium tickets will be available for purchase through Vai's website. Only a limited number of EVO Experience tickets are available for each show.
Vai's UK tour schedule is as follows:
August
29 - Belfast, Northern Ireland - Mandela Hall
30 - Leeds, UK - O2 Academy
31 - Glasgow, Scotland - O2 Academy
September
1 - Cardiff, Wales - St. David's Hall
3 - Bristol, UK - O2 Academy
4 - Bournemouth, UK - O2 Academy
5 - Brighton, UK - Concorde 2
Tickets are on sale now. Visit Vai.com for ticket links, the full list of all European dates, and other information.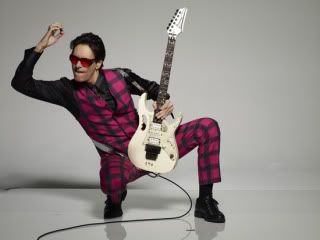 (Photo by Larry DiMarzio)
Vai recently announced that he will return to the US in the fall for a 30-plus city for the The Story Of Light. Tickets and special EVO Experience packages, where fans get a look at what Vai experiences several hours before a show and get to hold an intimate and open group discussion with him, are already on sale and can be purchased at Vai.com.
Steve Vai tour dates:
October
16 - Santa Cruz, CA - The Catalyst
17 - San Diego, CA - House Of Blues
18 - Ventura, CA - Ventura Theater
19 - Las Vegas, NV - House Of Blues
20 - Chandler, AZ - Wild Horse Pass Casino
22 - Tucson, AZ - Rialto Theatre
23 - Flagstaff, AZ - Orpheum Theater
24 - Santa Fe, NM - The Lensic
27 - Kansas City, MO - Harrah's Voodoo Lounge
29 - Columbia, MO - The Blue Note
30 - Springfield, MO - Gilloz Theatre
31 - Council Bluffs, IA - Horseshoe Whiskey Road House
November
1 - Des Moines, IA - Hoyt Sherman Place
2 - Bloomington, IL - The Castle Theater
3 - Joilet, IL - Mojoes
5 - Columbus, OH - Newport Music Hall
6 - Indianapolis, IN - Egyptian Room
7 - Grand Rapids, MI - The Intersection
8 - Rama, ON - Casino Rama
9 - Cincinnati, OH - Bogart's
10 - Knoxville, TN - Bijou Theatre
12 - Chattanooga, TN - Track 29
13 - Birmingham, AL - Workplay Theatre
14 - Mobile, AL - Soul Kitchen
15 - New Orleans, LA - House Of Blues
16 - Baton Rouge, LA - Varsity Theatre
17 - Little Rock, AR - Juanita's
19 - Tulsa, OK - Cain's Ballroom
20 - San Antonio, TX - Backstage Live
21 - Austin, TX - Paramount Theatre
22 - Dallas, TX - House Of Blues
23 - Houston, TX - House Of Blues