Swedish Death Metal Book Now Available In French Translation
March 15, 2012, 7 years ago
Daniel Ekeroth's mammoth landmark history book, Swedish Death Metal, is now available in an 824-page French translation from Paris-based publisher Camion Blanc.
Published in English by Bazillion Points Books in July 2008, the ultimate blow-by-blow account of Sweden's legendary death metal underground has earned global praise for its detailed portrayal of a regional music scene, based on exclusive interviews with members of NIHILIST, ENTOMBED, IN FLAMES, AT THE GATES, DISMEMBER, GRAVE, HYPOCRISY, OPETH, UNLEASHED, MARDUK, MORBID, MOB 47, DERANGED, EDGE OF SANITY, MERCILESS, THERION, LEIRS IN WAIT, CARNAGE, CARCASS, TIAMAT, AFFLICTED, REPUGNANT and THE HAUNTED.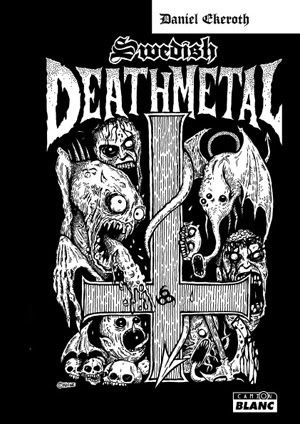 Says author Daniel Ekeroth: "I am delighted to see a French release! Of course, I have been in bands on French record labels going back to Dellamorte in the early Osmose days. Now I hope the catacombs of Paris are flooded with red wine while the restless readers of France get down to business enjoying some dark nighttime reading of Swedish Death Metal in their native tongue!"
For more details on the French edition of Swedish Death Metal, visit this location.