SYMFONIA - Video Interviews With Jari Kainulainen, Uli Kusch, And Mikko Härkin Available
December 5, 2010, 8 years ago
SYMFONIA, the new band featuring former STRATOVARIUS guitarist Timo Tolkki and ex-ANGRA / ex-SHAMAN frontman Andre Matos, has posted video interviews with the outfit's other members: Jari Kainulainen (ex-EVERGREY, ex STRATOVARIUS / bass), Uli Kusch (ex-HELLOWEEN, ex-MASTERPLAN / drums) and Mikko Härkin (ex-SONATA ARCTICA). Check them out below.
JARI INTERVIEW from SYMFONIA on Vimeo.
ULI INTERVIEW from SYMFONIA on Vimeo.
MIKKO INTERVIEW from SYMFONIA on Vimeo.
Following is the official Symfonia press release:
The new Melodic Power Metal super-group Symfonia begins recording its debut album on November 25th at Studio Mega in Sweden. They will start with the drum tracks of the renowned drummer Uli Kusch (ex-Helloween). The band will record 12 songs that some journalists, having already heard some of the tracks, have described as a "homecoming."
Symfonia has signed a four album deal with the biggest Japanese metal and rock label, Marquee Avalon, for the territory of the entire Asian region, including China. Negotiations with the other territories are still in progress. Symfonia has also launched a new website that contains brand new video interviews of guitarist Timo Tolkki and vocalist Andre Matos (ex-Angra).
The tentative release date for the yet-to-be-named debut album is March 25th, 2011.
As previously reported, Symfonia will make its World Premiere on February 18th at the Finnish Metal Expo, an International Metal Meeting, where they will take the stage at 11:00pm in the evening.
Check out BW&BK;'s exclusive interview with Timo Tolkki here. An excerpt is available below.
"Everything with Symfonia has been very fast," Tolkki reveals. "I don't want to use the word 'pre-destined', but after Revolution Renaissance I said, 'That's it, I'm opening the flower store…' (laughs). It's a weird story. It all started with Andre Matos because someone told me that he's living in Sweden now, in a village of something like 2,000 people. He comes from Sao Paulo, a city of 25 million people. I began thinking about it, that I had one of the best power metal vocalists practically living next to me. I know the guy very well, and I had nothing to do. I gave him a call and asked if he wanted to write some music, and Andre came to visit me in Helsinki. He spent the week here, went to sauna – where I showed the Brazilian what 'hot' really means (laughs) – and we worked on some music."
"The next one was Jari. Everybody thinks he was fired from Stratovarius (in 2005) but he actually decided to leave on his own for personal reasons. He's living in Norway now. I never had problems with him because Jari has this kind of Buddhist philosophy, and I always told him that I wished I could be like him (laughs). After he left EVERGREY (earlier this year) he was in another band, and the strange thing was he left that band on a Tuesday and I emailed him by chance on the Wednesday. I had no idea he didn't have a band. We talked for about three hours on the phone and I felt like I was in a time warp, because I hadn't seen him in five years. It really wasn't a big issue having him come on board."
"After I had Andre and Jari on board I went back and listened to my whole discography from beginning to end. I actually had to borrow the CD (laughs) because I didn't have any of them. I tried to get a picture of what I've done so far, and I came to the conclusion that I need to crystallize what I'm all about. With these guys I can do that."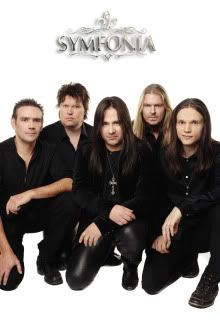 (Photo by Jussi Eerola)