TARJA TURUNEN - New Live CD/DVD/Blu-Ray Act 1 To Be Released August 27th
June 13, 2012, 7 years ago
earMusic have announced the release of former NIGHTWISH vocalist TARJA TURUNEN's new live album, Act 1, on CD / DVD / Blu-Ray on August 27th.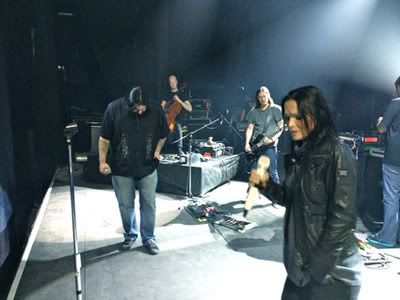 A recent update from Tarja states:
"The serious rehearsals for the first live DVD of my solo career started in Cordoba, Argentina, though the preparations for it had started much longer in advance. I had been performing several different set lists in my concerts throughout all my final tour, because I wanted to have all the songs ready and kicking when the time of the recordings would come. The reason I chose these particular set of songs was that I wanted to show the wide aspect of my solo career representing both of my albums.
On the day of the first Argentinean show in Cordoba I welcomed the guest musicians singer Diego Valdez, guitarist Julian Barrett and bassist Doug Wimbish on board. I thought it would be a nice addition to have the musicians that have been alternating on my last tours for my first DVD. The challenging part was to make the new arrangements for 2 guitar and 2 bass players, but we managed together very well since many of my songs already have those existing elements in the studio versions. I had been exchanging many emails and calls with my musicians before the actual show and everybody had been working on their own until then."

Read more and check out more photos at this location.
Complete release details to follow.