TARJA TURUNEN - Setlist And Photo Gallery From Madrid Show Available, Pro-Shot Live Footage From Eindhoven Online
February 28, 2012, 8 years ago
MetalSymphony.com has uploaded photos from ex-NIGHTWISH vocalist TARJA TURUNEN's February 18th show at Sala Arena in Madrid, Spain. Also available are pictures of support acts HANNIBAL and BENIGHTED SOUL. Check out the gallery at this location.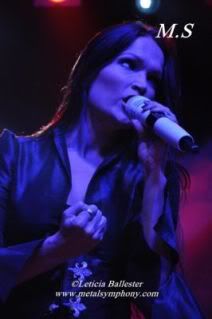 Tarja's setlist on the night was as follows:
'Anteroom Of Death'
'Lost Northern Star'
'Falling Awake'
'I Walk Alone'
'Dark Star'
- Mike Terrana's drum solo -
'Little Lies'
'Into The Sun'
'In The Still Of The Night'
Acoustic Set:
'Rivers Of Lust'
'Minor Heaven'
'Montañas del Silencio'
'Sing For Me'
'I Feel Immortal'
'Bless The Child'
'In For A Kill'
'Where Were You Last night'
'Die Alive'
'Until My Last Breath'
In addition, pro-shot footage of Tarja performing 'The Phantom Of The Opera' with Hannibal vocalist Alex in Eindhoven, Holland on February 25th is available below. It was produced by Bob-Media for Echozone Music and filmed by J. Scheuer, A. Ahlborn, J. Tochtenhagen. Audio mix and video edit by J. Tochtenhagen.