TENSION: 25 Years Underground - Heavy Metal Documentary To Make World Premier
March 6, 2012, 8 years ago
Tension: 25 Years Underground, a heavy metal documentary by Rudy Childs, will make it's world premier at the opening night of the Neon Reverb Music & Arts Festival, in Las Vegas, Nevada, on March 20th.
According to a press release: There is nothing more exciting than being on the threshold of a new type of music. Tension: 25 Years Underground takes us back to 1978 when teenagers Tom Gattis and Marty Friedman met and formed the rock band DEUCE (later known as TENSION). These kids churned out a style of music that underwent a complete metamorphosis — growing from punk-inspired rock 'n roll, into classic heavy metal at a time when that genre of music was way under the radar of most rock fans.
Tension: 25 Years Underground takes us through the entire decade of the band's existence, beginning as teenagers practicing in their legendary rehearsal space, The Barn, through securing a record deal, and on to their unfortunate demise in 1988. Interwoven throughout the band's storyline are sidebars touching on rock culture, music and censorship, topics important to the band during their tenure. Painstakingly constructed from new interviews, music and vintage concert footage, this film reveals the engrossing story of an innovative band that simply existed in the wrong place at the wrong time.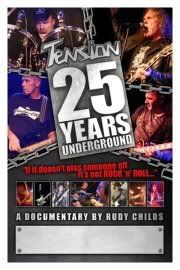 Despite their trials and tribulations, Tension's members have achieved success in their own personal ways, which have become rewarding in itself. With this film, their musical legacy lives on — in fact, they have reunited to open for ANVIL and ARCH/MATHEOS at the sold out Keep It True Festival in Germany (their first gig abroad) in April 2012.
For info on the festival, go to this location. For info on the band, go to this location.