TESTAMENT - More Dark Roots Of Earth Chart Positions Revealed
August 13, 2012, 6 years ago
Dark Roots Of Earth, San Francisco Bay Area metallers TESTAMENT's follow-up to 2008's The Formation Of Damnation, was released via Nuclear Blast on July 27th in Europe and on July 31st in North America. Selling over 20,000 copies in the US in its first week out, the album landed at #12 on The Billboard 200 chart. In Canada, Dark Roots Of Earth landed at #12 on the Top 200 Soundscan chart (selling over 2,000 copies) and #1 on the Hard Music chart. More chart positions have now been revealed (see below).
Commented the band: "Thanks to the Testament legions for making us shine this first week. Horns up!" – Eric Peterson
"I want to express my eternal gratitude to everybody who supported the Dark Roots of Earth album and for making our hopes, dreams and hard work a reality. I am forever grateful." – Chuck Billy
"It is with great pleasure that I share this honor with the Testament family and their legions of fans worldwide. The highest charting debut the band's and label's history! That is due not only you the fans, but also the extremely hard work by the worldwide offices of Nuclear Blast. Their efforts have paid off greatly and are most appreciated. Now that's how you run a campaign." – Gene Hoglan
"I'd like to give a big 'thank you' to all the people that helped bring this about. Thank you to everyone at Nuclear Blast, for all the hard work putting this campaign together. And definitely, a big thank you goes put to all the fans. You all made this possible. Cheers!" – Greg Christian
"Our first week chart activity, which includes a #12 Billboard debut, is the type of thing that has long seemed elusive to this band. But this time, thanks to a great team (our label, our management and of course, our awesome fans) it's on. Thank you all!" – Alex Skolnick
Dark Roots Of Earth chart postions:
#21 - Austria Top 75
#62 - Belgium Top 100
#86 - Belgium Flanders
#40 - Belgium Walloonia
#12 - Canada Top 200
#4 - Germany Top 100
#4 - Finland Top 50
#13 - Ireland Top 20
#32 - Netherlands Top 200
#10 - Switzerland
#57 - UK Top 200
#3 - UK Indie Top 40
#3 - UK Rock Top 40
#12 - US Billboard
Check out BraveWords.com's review of Dark Roots Of Earth at this location. Also, see BraveWords.com scribe Aaron Small's new Testament feature here.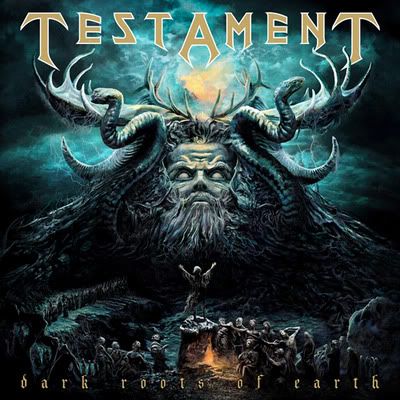 Dark Roots Of Earth is available in Europe as a regular CD, CD digi + DVD, CD box set, double vinyl and double picture disc vinyl. Special bonus tracks were recorded, mixed and mastered by Juan Urteaga (HEATHEN, VILE, SADUS) at his Trident Studios. Eliran Kantor, who has previously worked with ATHEIST, SIGH, ANACRUSIS and GWAR, among others, provided the cover artwork.
CD tracklisting:
'Rise Up'
'Native Blood'
'Dark Roots Of Earth'
'True American Hate'
'A Day In The Death'
'Cold Embrace'
'Man Kills Mankind'
'Throne Of Thorns'
'Last Stand For Independence'
CD/DVD tracklisting:
'Rise Up'
'Native Blood'
'Dark Roots Of Earth'
'True American Hate'
'A Day In The Death'
'Cold Embrace'
'Man Kills Mankind'
'Throne Of Thorns'
'Last Stand For Independence'
Bonus:
'Dragon Attack' (QUEEN cover)
'Animal Magnetism' (SCORPIONS cover)
'Powerslave' (IRON MAIDEN cover)
'Throne Of Thornes (extended version)
Plus Bonus DVD
Vinyl tracklisting:
Side A:
'Rise Up'
'Native Blood'
'Dark Roots Of Earth'
Side B:
'True American Hate'
'A Day In The Death'
'Cold Embrace'
Side C:
'Man Kills Mankind'
'Throne Of Thorns'
'Last Stand For Independence'
Side D (Bonus):
'Dragon Attack' (Queen cover)
'Animal Magnetism' (Scorpions cover)
'Powerslave' (Iron Maiden cover)
Testament's video for 'Native Blood' is available below:
Check out making of footage below: