THE 69 EYES Join The Mobile Backstage Community; App Available
October 4, 2012, 4 years ago
Helsinki vampires THE 69 EYES have joined the popular Mobile Backstage community where they will be able to easily share new content (whether it be video, audio, text or photo) with their fans. Fans get the chance to create their own content to share and also to connect with each other.
Visit the Mobile Backstage landing page to join the community via Facebook or the official iOS & Android apps, here.
Commented singer Jyrki69: "HELcome to this new device of ours! We want to build an army of you vampires around the world where ever we may go - this is a brand new way to get us together. This is the new blood bond of the Helsinki Vampires! Dig our new album X and join us!!!"
The 69 Eyes have released another song from their brand new album, X. Check out 'Borderline' at this location.
Commented singer Jyrki69: "Elvis, Johnny Cash and Lee Hazlewood were sitting by the fire in the sunset desert as I rode there with my white Apache horse. I got down and joined them to hear their stories. Lee handled me a half bottle of Jack Daniels as they start a song... This is a very intimate, gentle song. There's nobody else than me and the listener in this cold world as I sing this one for YOU. Can you feel the warmth of that fire..."
The band have lined up the following X tour dates:
January
26 - Köln, Germany - Sensor Club
27 - Hamburg, Germany - Markthalle
28 - Berlin, Germany - Postbahnhof
29 - Bochum, Germany - Zeche
31 - Frankfurt, Germany - Batschkapp
February
1 - Stuttgart, Germany - LKA
2 - München, Germany - Backstage
The 69 Eyes recently released the official video for their new single, 'Red', which was filmed in July with Patric Ullaeus of Revolver Film Company (DIMMU BORGIR, LACUNA COIL, IN FLAMES, KAMELOT). Check out the clip featuring Elvira, Mistress Of The Dark, below:
About the video singer Jyrki69 remarked recently: "We've known the director Patric for years and been talking nearly a decade of doing a video with him. So it was about the time finally! Since the whole new upcoming album X is our 'made in Sweden' record, it was natural to shoot a video with a Swedish director and in Sweden. I really loved David Fincher's movie The Girl With The Dragon Tattoo, which is set in Sweden and wanted some of that kind of vibe to be in this video too. We shot the video in the Bjertorp Slott mansion outside of Gothenburg. It's a mystery scene in the most beautiful Swedish countryside with fast sportcars, Playboy playmates and the Helsinki Vampires! When The 69 Eyes make videos, it always is more based on pleasure in contrary to the recording session. And that's how it was again this time!"
"Vampira, Tura Satana and Elvira, Mistress of the Dark (official). The concept of The 69 Eyes is based on the evil beauty of these women," Jyrki69 added. "I was a member of Elvira fan club ever since I saw her on the cover of Fangoria in the mid-80's. I had a life-size poster of her in the black lingerie in a coffin on my wall for years. F*ck it, I should put it back, just to celebrate the fact that finally I feel like The 69 Eyes made it - Elvira's supporting us!"
'Red' can be found on X, which came out on September 28th in Europe, and will be released October 9th in North America via Nuclear Blast Records.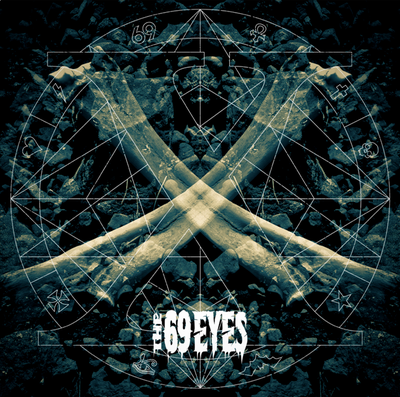 The tracklist for X:
CD:
'Love Runs Away'
'Tonight'
'Black'
'If You Love Me The Morning After'
'Red'
'I Love The Darkness In You'
'Borderline'
'I'm Ready'
'I know What You Did Last Summer'
'When A Love Comes To An End'
Bonus DVD
- Red (video single)
- Made In Sweden – Stockholm & THE 69 EYES (documentary)
Vinyl:
(Side A)
'Love Runs Away'
'Tonight'
'Black'
'If You Love Me The Morning After'
'Red'
(Side B)
'I Love The Darkness In You'
'Borderline'
'I'm Ready'
'I know What You Did Last Summer'
'When A Love Comes To An End'
A new video featuring audio snippets and comments about X is available in the the four-minute clip below: