THE DOORS - Live At The Bowl '68 On DVD, Blu-Ray In October
August 15, 2012, 5 years ago
THE DOORS supplied plenty of post-Independence Day fireworks on July 5th, 1968 when the legendary quartet played the Hollywood Bowl, a concert that is considered to be the band's finest on film. For the first time, the film from the historic performance has been painstakingly restored using the original camera negatives and the audio has been remixed and mastered from original multi-tracks by the group's engineer Bruce Botnick. This new restoration offers a stunning visual upgrade from earlier versions and will give fans the closest experience to being there live along side Jim Morrison, John Densmore, Robby Krieger and Ray Manzarek, who opined, "You can hear it as if you were at the Hollywood Bowl, on stage with us."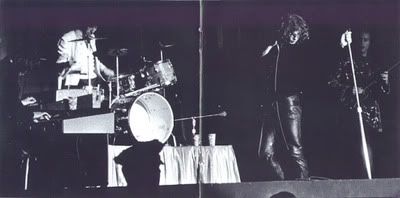 Live At The Bowl '68 will include three previously unreleased tracks from the performance. Technical issues with the recording of 'Hello, I Love You', 'The WASP (Texas Radio And The Big Beat)', and 'Spanish Caravan' prevented them from being released in the past. Now, through meticulous restoration of the audio, all three will be included, marking the first time the concert has been available in its entirety.
Live At The Bowl '68 – the definitive version of this concert – is coming October 23rd in several formats. Eagle Rock Entertainment will present the concert on Blu-Ray, DVD, and digital video. Rhino will release the remixed audio for the entire concert on CD, digital audio and double-LP.
The DVD, Blu-Ray and digital video each feature a 16x9 high-definition digital transfer with both a stereo and 5.1 audio soundtrack as well as over an hour of bonus material. Included in the additional content are Echoes From The Bowl, The Doors' route to the Hollywood Bowl; You Had To Be There, memories of The Doors' performance at the Bowl; Reworking The Doors, an in-depth look at how the film was restored; and three bonus performances: 'Wild Child' from The Smothers Brothers Show in 1968, 'Light My Fire' from The Jonathan Winters Show in December 1967 and a version of VAN MORRISON's 'Gloria' with specially created visuals.
Jeff Jampol, Doors manager and producer of the film said, "The Doors' live performances were a shamanistic journey into dark rock and roll psychedelic theater – a swirling mixture of rock 'n' roll heat, poetry, danger, drama and unbridled musical virtuosity. Captured at the height of The Doors' magical powers, in one of the world's greatest venues, this brand new restoration, edit and mix, corny as it may sound, made me fall in love a hundred times, all over again."
Geoff Kempin, executive producer for Eagle Rock said, "The Doors were one of THE most incredible live bands ever – we wanted to apply the top technology so that everyone can fully appreciate the phenomenon of The Doors captured at their height on 5 July 1968".
Live At The Bowl '68 tracklisting:
'Show Start/Intro'
'When The Music's Over'
'Alabama Song (Whisky Bar)'
'Back Door Man'
'Five To One'
'Back Door Man' (Reprise)
'The WASP (Texas Radio And The Big Beat)'
'Hello, I Love You'
'Moonlight Drive'
'Horse Latitudes'
'A Little Game'
'The Hill Dwellers'
'Spanish Caravan'
'Hey, What Would You Guys Like To Hear?
'Wake Up!'
'Light My Fire' (Segue)
'Light My Fire'
'The Unknown Soldier'
'The End' (Segue)
'The End'