THE ROLLING STONES - Some Girls Live In Texas '78 Available On DVD And Blue-Ray On November 21st
September 8, 2011, 7 years ago
Eagle Rock Entertainment have announced the DVD and Blu-Ray release of THE ROLLING STONES Some Girls Live In Texas '78. Available for the first time ever on November 21st, Some Girls Live In Texas '78 features Mick Jagger, Keith Richards, Charlie Watts, Ronnie Wood and Bill Wyman live in concert during the 1978 US tour which followed the release of their groundbreaking album, Some Girls.
Some Girls Live In Texas '78 comes hot on the heels of the huge success of 2010's Stones In Exile and Ladies & Gentlemen and marks the next stage in the Eagle Vision / Rolling Stones enterprise. Some Girls Live In Texas '78 will be available on four different formats: DVD, Blu-Ray, plus special edition DVD + CD and Blu-Ray + CD digipack presentations including a reproduction tour program. Bonus features on all formats will include a new interview with Mick Jagger. Worldwide theatrical distribution deals will be announced soon.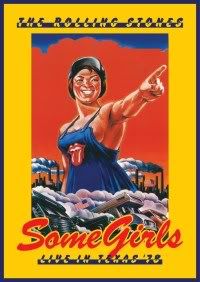 Capturing The Rolling Stones at their live best, and fully restored to the highest level of picture and sound quality, Some Girls Live In Texas '78 was filmed at the Will Rogers Memorial Center in Forth Worth, Texas on July 18th, 1978 on what many fans consider to be one of the band's greatest tours. This was due to the band's 'back to basics' approach both musically and visually, as the shows were stripped back compared to previous tours, harnessing the new punk rock attitude of the late 70s.
Showcasing many songs from the Some Girls album, celebrated for being the Rolling Stones' most direct and diverse collection of music, and which by the time the band arrived in Texas, had gone to the top of the US charts, this concert demonstrates the sheer force and raw energy of The Rolling Stones live on stage.
Originally shot on 16mm film, the concert footage has been carefully restored with the sound remixed and remastered by Bob Clearmountain from the original multi track tapes.
Tracklisting:
'Let It Rock'
'All Down The Line'
'Honky Tonk Women'
'Star Star'
'When The Whip Comes Down'
'Beast Of Burden'
'Miss You'
'Just My Imagination (Running Away With Me)'
'Shattered'
'Respectable'
'Far Away Eyes'
'Love In Vain'
'Tumbling Dice'
'Happy'
'Sweet Little Sixteen'
'Brown Sugar'
'Jumpin' Jack Flash'