TRANS-SIBERIAN ORCHESTRA Guitarist Angus Clark's DAREDEVIL SQUADRON Working On New Album; Release Slated For This Year
September 29, 2013, 3 years ago
TRANS-SIBERIAN ORCHESTRA guitarist Angus Clark's band DAREDEVIL SQUADRON are back in the studio working on a new album. Clark has checked in with the following:
"Just a quick clip of drummer Jason Gianni recording an instrumental clip for the newest Daredevil Squadron CD. This is the middle section of a song entitled 'Demon In The Sky' and will appear on the newest release somewhere toward the end of 2013."
Daredevil Squadron's debut album, Out Of The Sun, is currently available through their official website or through iTunes, Amazon, CD Baby, or any other digital music download service.
The tracklist for Out Of The Sun is as follows:
'Out Of The Sun'
'Punishment Fits'
'Forgotten Son'
'Back Lounge'
'Hero Falls'
'Chronicles of Sorrow Pt. 1: An Eternity Of Forgetfulness'
'Streets of Montmartre'
'Power Trip'
'Faith Hope Love'
'Lillian'
Following is the band's official bio:
An unlikely band of brothers from diverse backgrounds, these metal warriors are united to rock the world with True Metal. Much like the secret of steel that helped Conan conquer the Iron Age warlords of his day, True Metal sets Daredevil Squadron apart from the rest.
Angus Clark (the Scotsman), Andrew Ross (the American), Chris Altenhoff (the German), Aurelien Budynek (the "Bordeaux Bandit" - a Frenchman), and Jason Gianni (the Italian) have put aside their nationalistic differences to forge an alliance the rock world has never seen!!"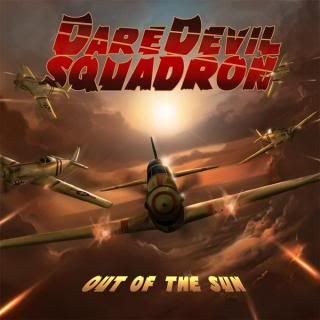 For information and updates on Daredevil Squadron go to this location.