TRILLIUM To Support DELAIN On European Tour In April/May; Complete Schedule Confirmed
December 6, 2011, 8 years ago
TRILLIUM - the metal solo project from AVANTASIA vocalist Amanda Somerville, will support Holland's DELAIN on tour through Europe in April and May. The complete schedule is as follows: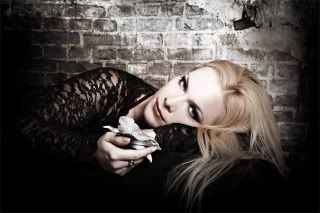 April
26 - Hamburg, Germany - Grünspan
27 - Berlin, Germany - Lido
28 - Warsaw, Poland - Progresja
29 - Zlin, Czech Republic - Masters Of Rock Cafe
May
2 - Budapest, Hungary - Club 202
3 - Wien, Austria - Arena
4 - München, Germany - Backstage
5 - Romagnano Sesia, Italy - Rock 'n' Roll Arena
6 - Pratteln, Switzerland - Z7
8 - Köln, Germany - Gloria
9 - Vosselaar, Belgium - Biebob
10 - Karlsruhe, Germany - Substage
11 - Paris, France - Alhambra
12 - Birmingham, UK - HMV Institute 2
13 - Sheffield, UK - Corporation
15 - Manchester, UK - O2 Academy
16 - London, UK - Koko
An excerpt from a recent interview with Somerville conducted by BW&BK;'s Carl Begai is availabel below:
Folks that are expecting Somerville to follow a similar path to the work she's done for EPICA and AVANTASIA on Alloy are in for a shock. Some tracks are attitude-laden cousins to melodic rock, others are heavy-edged and bordering-on-Black Sabbath dark. The album is almost completely devoid of orchestral arrangements and features no neo-classical bombast whatsoever, carried through numerous twists and turns instead by the vocals and some almighty riffs. Bottom line: Alloy is loaded with plenty WTF moments.
"Which is a good thing (laughs). Nothing about what I do is contrived; it all comes out the way that it comes out, and sometimes it needs to be a little more conformed, I guess. Literally, as cheesy as it sounds, the music pours out of me the way that I feel it. I don't like following formulas. My songs have a typical song structure – verse / pre-chorus / chorus – and that's just in me, but in terms of trying to fit a certain formula, that's not a conscious thing for me. It's not something I want to do, either. That's why there are no Latin choirs on the album (laughs)."
"I've actually gotten comparisons to Epica and After Forever. In fact, one guy made the After Forever comparison before he knew that Sander was one of the songwriters on Alloy. That kind of surprised me, but Sander does have a signature sound, but I don't hear the similarities."
Click here for more, including Somerville discussing working with Sascha Paeth and Avantasia bandmate Jorn Lande (MASTERPLAN) on the song 'Scream It'.
Alloy was released on November 4th in Europe and November 1st in North America. The tracklist is as follows:
'Machine Gun'
'Coward'
'Purge'
'Utter Descension'
'Bow To The Ego'
'Mistaken'
'Scream It'
'Justifiable Casualty'
'Path Of Least Resistance'
'Into The Dissonance'
'Slow It Down'
'Love Is An Illusion' (bonus track)
The first video from the album is for the track 'Coward' which can be viewed below: