TUFF Release What Comes Around Goes Around... Again!
March 3, 2012, 7 years ago
It's been 25 years since TUFF hit Sunset Strip in Hollywood California. To celebrate that anniversary (1987-2012) the band have issued What Comes Around Goes Around... Again! The CD will hit the street this month via the band's own indie label (RLS RECORDS).
The core that remains of the band are vocalist Stevie Rachelle and bassist Todd Chaisson. The newly recorded tracks were produced and mixed by Michael Raphael (JAILHOUSE/NEVE) with a laundry list of '80s stars appearing throughout.
The group will also adopt a new stage look and persona going forward says Stevie Rachelle - who was From Hell according to a Hollywood promoter who nicknamed him that in the late '80s. That isn't far off from the new stage name - $tEVIL. The bassist and founder of the band, will re-assume his old stage identity of CH@SE. Not a new comer as the groups drum throne has been occupied by Tod Burr since 2001. Going forward he will simply be known as - T DRUMS! However, the band does welcome new blood with S'OLIN on lead guitar. The Swedish born Staffan Osterlind has played and toured with Paul Di'Anno (IRON MAIDEN) and Black Robot (BUCKCHERRY).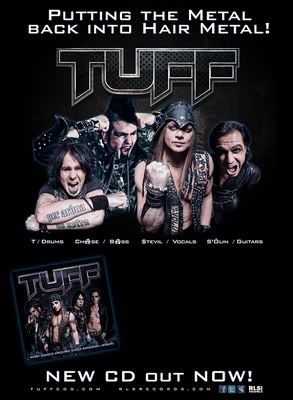 What Comes Around Goes Around... Again! is not just a remake, but also a revisited disc of memories for CH@SE and $tEVIL. "This disc was a few years in the making, from the idea, to the actual sessions," says Rachelle. "I wanted to remake some of these songs – as our Atlantic Records debut was discontinued years ago. Fans see the youtube videos, then want a quality copy of these songs but there isn't one out there. Now it's here."
Also included are a half dozen of the bands earliest re-mastered demos that feature the classic hair band line up of Tuff: Stevie Rachelle - vocals, Todd Chaisson - bass, Jorge DeSaint - guitars and Michael Lean on drums.
What Comes Around Goes Around – Again tracklisting
'Good Guys Wear Black' featuring George Lynch and Jaime St. James
'All New Generation' featuring Steve Brown
'I Hate Kissing You Goodbye' featuring Keri Kelli
'So Many Seasons' featuring Michael Raphael
'What Comes Around Goes Around' featuring Jeff Loomis and Stephen Pearcy
'Put Out Or Get Out' featuring Howie Simon and Lizzy DeVine
Remastered demos:
'Round 'Em Up' (1988)
'Summertime Goodbye' (1988)
'Want Trouble' – You Got It (1988)
'Down On Sinner Street' (1989)
'Forever Yours' (1989)
'Ain't Worth A Dime' (1989)
Bonus tracks:
'Move Along'
'So Many Seasons' (Piano Version)