U.D.O.: Three New Songs Streaming
May 3, 2011, 7 years ago
U.D.O., featuring frontman Udo Dirkschneider (ex-ACCEPT), will release their upcoming Rev-Raptor album, on May 20th via AFM Records. Three of the songs - 'Rev-Raptor', 'Leatherhead' and 'Rock'N'Roll Soldiers' - are currently streaming at this location.
Rev-Raptor will be available in the following formats:
- CD (Jewel Case)
- CD (Digipak)
- CD (Japan)
- Vinyl black
- Vinyl green
- Limited Box (more details below)
The digipak contains the two bonus tracks, 'Time Dilator' and 'Heavy Metal W:O:A', plus the videos for 'Leatherhead' and the second single, 'I Give As Good As I Get'.
The Japanese version of Rev-Raptor includes the bonus tracks 'Stormbreaker' and 'Bodyworld'. Rev-Raptor on green-vinyl is limited to 200 copies and available exclusively via Nuclear Blast mailorder.
Following are the tracklistings of the different Rev-Raptor editions: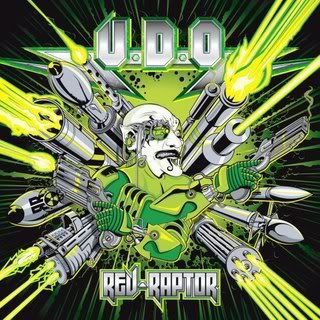 CD Jewel Case:
'Rev-Raptor'
'Leatherhead'
'Renegade'
'I Give As Good As I Get'
'Dr. Death'
'Rock'N'Roll Soldiers'
'Terrorvision'
'Underworld'
'Pain Man'
'Fairy Tales Of Victory'
'Motor-Borg'
'True Born Winners'
'Days Of Hope And Glory'
CD DigiPak:
'Rev-Raptor'
'Leatherhead'
'Renegade'
'I Give As Good As I Get'
'Dr. Death'
'Rock'N'Roll Soldiers'
'Terrorvision'
'Underworld'
'Pain Man'
'Fairy Tales Of Victory'
'Motor-Borg'
'True Born Winners'
'Time Dilator' (Bonus)
'Days Of Hope And Glory'
'Heavy Metal W:O:A' (Bonus)
'I Give As Good As I Get' (Video)
'Leatherhead' (Video)
CD Japan:
'Rev-Raptor'
'Leatherhead'
'Renegade'
'I Give As Good As I Get'
'Dr. Death'
'Rock'N'Roll Soldiers'
'Terrorvision'
'Underworld'
'Pain Man'
'Fairy Tales Of Victory'
'Motor-Borg'
'True Born Winners'
'Stormbreaker' (Bonus)
'Bodyworld' (Bonus)
'Days Of Hope And Glory'
Vinyl:
'Rev-Raptor'
'Leatherhead'
'Renegade'
'I Give As Good As I Get'
'Rock'N'Roll Soldiers'
'Terrorvision'
'Underworld'
'Pain Man'
'Motor-Borg'
'True Born Winners'
'Days Of Hope And Glory'
The official video for the song 'Leatherhead', as well as new behind the scenes footage from the making of the video, can be seen below: