VAN HALEN Change Labels After 35 Years
September 17, 2011, 6 years ago
According to Hits Daily Double, after spending its entire 35-year career at Warner Brothers, VAN HALEN, with David Lee Roth back in the fold, recently completed work on its first album for new label Columbia, coming early next year.
According to the Van Halen News Desk, Van Halen are currently mastering their as-yet-untitled new album.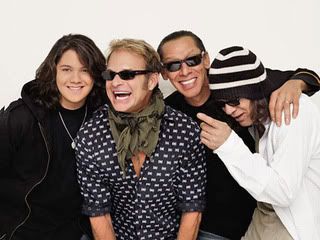 Van Halen have been in the studio with Grammy Award winning producer John Shanks (BON JOVI, FLEETWOOD MAC, STEVIE NICKS) and producer/engineer Ross Hogarth (DIO, MÖTLEY CRÜE, RATT), recording their first album with David Lee Roth in more than 25 years, and their first new music as a band in seven years. The hard rock legends are rounded off by brothers Eddie and Alex Van Halen and Eddie's son Wolfgang.