VELVET REVOLVER Drummer Matt Sorum On Band Future - "If It Doesn't Happen By 2011 Were Definitely Going To Pack It Up"
December 22, 2010, 9 years ago
VELVET REVOLVER drummer Matt Sorum (ex-GUNS N' ROSES, THE CULT), recently sat down with Bravewords.com recently to discuss the band's past, but mostly the band's future. Part I of Mitch Lafon's interview can be read at this location. In Part II, Sorum discusses GUNS N' ROSES infamous Montreal riot, the CAMP FREDDY all-star side-project and the possibilities of seeing a new Velvet Revolver album and tour in 2011. Read on...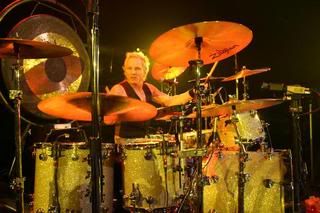 Bravewords.com: When you put together Velvet Revolver (with Scott) was it seen as a long-term project or was this simply supposed to be one album by a "supergroup", but because the record was so successful that you decided to carry on?
MS: "No, we never thought of it as a one-off. We were totally like 'this guy's going to change'. It can't be as difficult as his previous experience or the band that we were in. It can't possibly be… can it? If you watch the rise of Velvet Revolver, I say that at the very beginning. Scott shows up two hours late and I say to Slash and Duff, 'we can't start like this… can we? (laughs)'. There's a point last year, when we were trying out singers and there were a couple of guys trying out that were showing up on time and being very nice and I said to Slash and Duff 'are you guys sure that you can deal with a guy that is this together (laughs)?' Maybe we're the kind of guys that like to be fucking abused. I don't know."
Bravewords.com: You need mayhem to function.
MS: "That has always made for good rock n' roll. Was Guns N' Roses dangerous? FUCK yeah! You didn't know what you were going to get out of that guy and people in the old days would come to the show because they didn't know what they were going to get. That would create the danger and allure of Guns N' Roses."
Bravewords.com: I had the ultimate 'danger' with Guns N' Roses. I was at the infamous 'riot show' in Montreal. The night that James Hetfield caught on fire…
MS: "In retrospect, I'll back up Axl on that. We were coming up from Toronto. We got the radio call that James Hetfield was on fire and by the time we got the call METALLICA had already left the stage. We were well over an hour outside of Montreal. We got a police escort and went about 120 miles per hour to get to Montreal. By the time the band got to the venue, Metallica had already been off-stage a long time. The crowd was anxious…"
Bravewords.com: It had been roughly 4 ½ hours.
MS: "We weren't hanging out backstage. That's bullshit. The fact of the matter was that we weren't even in town. Metallica goes on and on about how we were backstage gallivanting around in the dressing room…"
Bravewords.com: 'Sipping champagne and smoking cigarettes,' is the famous quote.
MS: "That's bullshit! We were very concerned about James and Axl was very concerned that we got on stage as quickly as possible. We came up in cars and as soon as we walked into the venue, we changed our clothes and we made towards the stage. The problem was that the stage wasn't ready. There were a bunch of problems and Axl got pissed off because Metallica (they're friends of mine so they know I can say this and it's so long ago that it doesn't fucking matter), but the fact of the matter was that Metallica were trying to take the throne from us at the time. They would try to outdo us every night and they kept adding more pyro, more explosions and they had all this shit going on. I'd sit in the dressing room and I would hear 'BAM, BAM, BAM'. I'd say to Duff, 'I didn't hear that last night'. They just kept adding more and more shit. James Hetfield will tell you; he fucking walked right in to a brand new explosive when he was told 'not to walk over there'. He was told by Pyro Pete, 'dude I'm going to blow another thing over here tonight. Don't go there.' He walked right into it. So, from our side of things it was like 'why are these guys pulling these shenanigans on us? We just want to put on a rock show.' We did a fifty-fifty split with those guys as a double bill because we love that band and still do."
Bravewords.com: It was a great double bill…
MS: "We had full stage, full lights… two hour show each. It was one of the greatest stadium rock tours ever put out there. We had FAITH NO MORE opening. Great tour, but unfortunately at the point it had gotten… a little competitive on Metallica's part. 'We're going to blow these guys away,' kind of shit…literally (laughs)."
Bravewords.com: It certainly was an interesting night in Montreal.
MS: "I hate that Axl takes the brunt of it for that. In that particular situation… I don't care if you put this on bravewords.com and everyone says Matt's kissing Axl's ass. It's not what I'm doing at all. It's just that when that story gets told, I know the truth. I was there and I know what happened."
Bravewords.com: That's part of the problem with Axl not doing interviews. He never gets to tell his side of the story. You can't compare the 'truths' and say 'hmmm'. You only hear one story and you go, 'ok, that works for me.'
MS: "It's about fifty-fifty. You can't come out every time and say, 'it's not my fault'. There's a lot of shit that… You know, that's caused by whatever, but in that particular case I'd say, 'no, that's not how it went down'."
Bravewords.com: I do remember that days before the Montreal show that there was talk of the band canceling the gig because Axl was having throat issues. So, the fact that he showed up at all and played was amazing.
MS: "Yeah. You know if you're not a singer, I guess you probably don't know how much goes into being a singer unless you ask a guy like Steven Tyler. He goes out every night and puts on a performance like it's the last one he's ever going to do. Here's a guy who got on stage with me last Friday night with Camp Freddy and 'Sweet Emotion' could have been a little better, but we hadn't rehearsed it or anything (on our part not his part)."
Bravewords.com: From a fans' perspective, when I watch Camp Freddy on Youtube, I like the fact that it's not perfect. Rock N' Roll is supposed to be dirty. It's not supposed to be ProTool-ed and layered with seventy-seven guitar tracks. So, that Sweet Emotion performance, to me, came off as a good rock moment. I was pleased with Steven and Camp Freddy.
MS: "Steven came out there and he's a little bit older, but he's still one of the greatest rock singers ever. What I'm saying about Axl is that Axl is the same way. It took that much just to get on stage and sing that powerful and unless you're singer you don't realize that that instrument is a delicate instrument. It's not like he can go up and bang on drums or play guitar. We can do that with the flu you know or whatever situation you're in, but as a human instrument the vocal chords are a whole other animal. I only know that because I'm a singer too. He would have to spend his whole day making sure that his voice was ready for one particular evening. We were the ones that were out partying, drinking and gallivanting around while he was back in his room resting and that's the truth. Axl didn't go out and hell raise and make a cocaine drinking fool like the rest of us. He was nurturing his voice for the next gig."
Bravewords.com: Most fans don't realize that…
MS: "No, not really. The rumor was that 'oh, that guy he sits and does that,' but it wasn't that at all. The rest of us were (laughs)."
Bravewords.com: Let me ask you quickly about Camp Freddy. The band has been playing the L.A. area for quite some time now. Do you think you'll ever put together a proper record?
MS: 'Dave Navarro put it best 'there's really no point to it'. It would be a cover album and I'd rather listen to the originals. We started on something with Mike Clink, but it was a pipe dream and would anyone really care? The realization we came to was 'no, probably not'. We should just let it be what it is. A party band, it's not serious, we're not trying to make a statement and we don't really give a fuck. If I get to play with Steven Tyler, Mick Fleetwood, Billy Idol, Alice Cooper, Billy Gibbons, or Ozzy Osbourne… that's enough. I can go home knowing that I've lived my rock n' roll fantasy. As a kid growing up playing those albums and now being onstage and people get to see that… Steven Tyler at the Roxy. That's all that needs to be said. That's the whole statement. This is just fun. That's what rock n' roll is meant to be."
Bravewords.com: Have you ever thought of taking the band on the road? A quick little summer run…
MS: "That would be fun. I've always had this idea of blowing into any city for instance like Iggy Pop lives in Miami. We could blow into Miami and Iggy Pop would front it. We could blow into Chicago and Billy Corgan or the guys from CHEAP TRICK… New York we could have Lou Reed or the remaining Ramones…"
Bravewords.com: You might be right about an album. You'd get a few curious people to check it out, but the live show can be brought to the fans and I think you'd get a great reaction…
MS: "The problem with the whole thing is to get everyone to clear their shit (schedule). We didn't even know if Steven Tyler was going to make it to the gig. That's how it goes down. It was like 'is he coming?' This film crew wanted to come in and we were like 'we don't even know if he's coming'. They wanted to make a DVD and we're like 'hold on. Now we have to clear the music?' That's a whole other animal that people don't realize."
Bravewords.com: Mechanical rights. Those cost a fortune.
MS: "Now we have to call LED ZEPPELIN and ask 'is it cool if Steve Tyler sings 'Whole Lotta Love?'
Bravewords.com: Exactly. So, you end up with a DVD that has three songs on it because all the other songs couldn't get cleared.
MS: "You get a couple of random hits (laughs)."
Bravewords.com: If you could ever figure out how to tour with the live show (even if it's only for two weeks), I think a lot of fans would come check it out.
MS: "It's really crazy. Every Christmas we put on this show and the fans… We got into doing a lot of corporate events you know. There's a lot of that going on with musicians. Last year, we put the tickets up for sale and people didn't know what they were going to get and at the end of the day we had Ozzy and other great artists up there and people we like 'shit, I missed it.' So, this year it sold out in like five minutes… All four shows gone. Last year, we also had Billy Idol and Billy Gibbons and people know 'they are going to deliver'. Amongst the core band of Dave Navarro, Billy Morrison, Donovan and myself we're constantly trying to outdo ourselves, but after last week 'we're like shit. How do we outdo that?' We call Mick Jagger (laughs)!"
Bravewords.com: Or maybe get Axl Rose.
MS: "I swear to God we called him."
Bravewords.com: Just before we wrap up, let's get back to Velvet Revolver. With the line-up change, do you keep the name Velvet Revolver or is this a new beast that needs a new name?
MS: "We're going to keep the name and let me explain. People are like 'why are they keeping the name?'
Bravewords.com: Well, it is an established brand.
MS: "Well, that's the thing. If people realized the amount of work that goes into branding... Once we got the name Velvet Revolver, we had to sell a record. Then our name became, not a house hold name, it's not Guns N' Roses by any means, but then we had to go out and tour the world and do a lot of press. We had to keep dropping the name Velvet Revolver and then, at the end of the day, you have a tangible sellable vehicle that you can tour comfortably. We all looked at each other when Scott left and said 'what do we do about the name?' I'm not willing to go out and build another brand at my age. We built a good brand and we were originally the guys in the band and let's take what we have and go on with it as Velvet Revolver. Scott gave us his blessing. He's got Stone Temple Pilots."
Bravewords.com: When you say 'Scott gave you his blessing'. Is it because he still has a legal interest in the band? Is he still a partner?
MS: "Hmmm (pauses). He's still got a little bit of an ingredient. It's like the special sauce on a Big Mac. He deserves that and that's cool. That's the agreement we made and we're cool with that. To go out and create an entire new thing that's a beast."
Bravewords.com: It is. That means you have to get new t-shirts, new logos, register a new trademark, etc… It may seem silly to a fan that picks up an album on Amazon, but it's a lot of hassle behind the scenes before it gets to that point.
Are you guaranteeing new Velvet Revolver in 2011? Be that a tour, album or both?
MS: "I would like to say 'yes' as a guarantee and the only reason I'm saying that is because if it doesn't happen by 2011 were definitely going to pack it up. But it will happen because that's our goal. We've known each other over twenty years and it's like a gentlemen's agreement. It's like 'ok, let's do this'."
For more visit:
(All photos courtesy of Matt Sorum)