VINNIE VINCENT Planning To Re-Record All Systems Go Album
July 3, 2011, 8 years ago
According to a reliable BW&BK; source, former KISS guitarist Vinnie Vincent "has plans to re-record the second VINNE VINCENT INVASION album, All Systems Go, the way it should have been recorded with the Vincent production, inclusive of all guitars, bass and vocals which would bring back the ferocious over-the-top sound of the first VVI album, with Robert Fleischman on vocals."
More details will be provided as we get them.
All Sytems Go, the Vinnie Vincent Invasion's second album, featured vocalist Mark Slaughter and bassist Dana Strum of SLAUGHTER fame, and NELSON drummer Bobby Rock.
Nashville Scene's Adam Gold recently issued the following report on Vinnie Vincent:
When onetime rock stars move Nashville-way, it's usually to launch a second career as a songwriter, get a gig as a sideman, do sessions, or reclaim their fame in an industry town where having a youthful appearance and cutting-edge relevance aren't always make-or-break requirements. Take DARIUS RUCKER, who - once mocked and maligned as lead singer for HOOTIE & THE BLOWFISH — has recently celebrated a meteoric rise to the riches of pop-country Babylon after spending a decade as a pop-culture punch line.
When former KISS guitarist Vinnie Vincent moved to Middle Tennessee in the mid-1990s, he might've imagined himself making headlines in guitar magazines by remarketing his trademarked Vinnie Vincent Double V axe, or penning hits that would chart as high for a country star like GARTH BROOKS as 'Lick It Up' and 'I Love It Loud' did for KISS, or using his renowned chops as a shredder in the studio. Vinnie Vincent — aka Vincent Cusano; aka "The Ankh Warrior" — accomplished none of these things.
Read more at this location.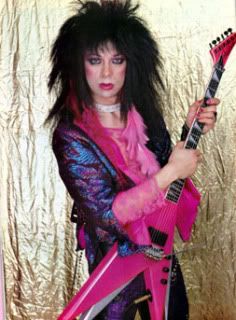 (Thanks: Fullshred)