WARRANT - New Limited Edition Cabernet Sauvignon Wine Available
August 4, 2012, 7 years ago
Veteran rockers WARRANT in cooperation with the South Coast Temecula Winery have unveiled the new aptly named Cabernet Sauvignon vintage I Saw Red. Guitarist Erik Turner is a local of the Temecula valley and has launched the wine locally, but it also available online to out of state wine lovers or collectors. A limited amount are signed and ready to ship.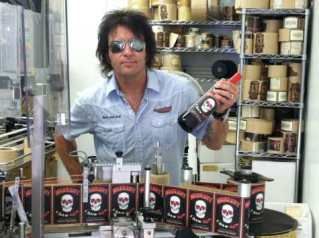 A product description:
"Just like the band that inspired this wine, this Cabernet Sauvignon is bold rugged individualistic with dark and complex characteristics. Warrant, I Saw Red, Cabernet Sauvignon goes beyond the general descriptions and delivers even more. Rich, concentrated character that is layered with ripe black cherry, cassis and blueberry jam fruit aromas are underscored with modest herbal scents and warm, smoky oak tones. Full bodied and velvety upon first taste, this is a supple wine with great varietal intensity."
Go to this location for more information.