WEAPON T-Shirts Banned From The Olympics
July 24, 2012, 5 years ago
After NWOBHM band WEAPON t-shirts were officially banned from the Olympics in case some people think weapons are being advertised, Gigblasters can confirm that those wearing Olympic themed t-shirts will be admitted into the Denim And Leather NWOBHM Festival at The Slade Rooms, Wolverhampton on September 29th.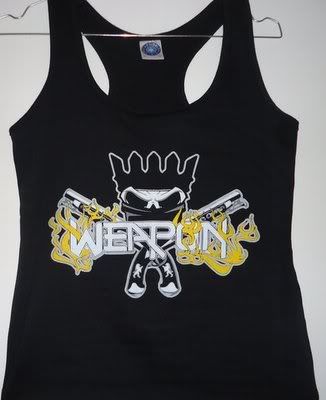 In fact promoter Roger Fauske of Gigblasters is positively encouraging freedom of choice. "Naturally anyone turning up in a Weapon, PRAYING MANTIS, GASKIN, STAMPEDE or AGINCOURT t-shirt will be more than welcome, seeing as they are the bands on the bill. We will also allow admittance to anyone advertising the olympics on their shirts...how's that for olympic spirit."
Danny Hynes, vocalist with Weapon, said about the Weapon shirt being banned: "I have to say when I first read the story I thought it was a hoax but apparently not! As for a comment, UN-fucking-believe! With all the shit going on around the world the cops in Britain spoil four young girls special day out because one of them is wearing a rock'n'roll t-shirt. What a lovely memory they'll have to tell their grand-kids about the day they went to see the Olympic torch procession! Does this also mean Weapon will have to change their name, after 30+ years, in case we upset other people."
Roger Fauske also added, clearly referencing the bands playing: "We will take the risk that some people may fall prey to the advertising on the shirts and if anyone buys weapons, is trampled by a herd of wild horses, attacked by large insects or starts fighting the French with longbows as a result of coming to the gig, we will apologise for our part in their behaviour."
For more details visit Nwobhmgigs.co.uk.