WOLF Release Bloodstock Open Air 2011 Survival Guide Video
July 26, 2011, 6 years ago
Bloodstock Open Air 2011 is scheduled for August 12th - 14th at Catton Hall in Walton On Trent, Derbyshire, England.
Swedish metallers WOLF have released a Bloodstock Open Air survival guide video. In the clip the band demonstrate how to drink, walk, and drive like a true metal maniac. Watch the video below:
Bloodstock Open Air 2011 line-up:
Ronnie James Dio Stage - W.A.S.P., IMMORTAL, MOTÖRHEAD, RHAPSODY OF FIRE, IHSAHN, DEVIN TOWNSEND, AT THE GATES, MORBID ANGEL, CORONER, PRIMORDIAL, THERION, EXODUS, KREATOR, NEVERMORE, TRIPTYKON, HAMMERFALL, HELL, GRAVE DIGGER, NAPALM DEATH, FINNTROLL, FORBIDDEN, WINTERSUN, TAROT, WOLF, 1349, POISONBLACK, SKELETONWITCH, THE DEFILED.
Sophie Lancaster Stage - ANGEL WITCH, LAWNMOWER DETH, CRIMINAL, DRIPBACK, ARTHEMIS, POWER QUEST, THE ROTTED, OCTOBER FILE, NEMHAIN, DEF-CON-ONE, SURVIVORS ZERO, BYFROST, DEADLY CIRCUS FIRE, PRIMEVIL, REVOKER, ACHREN, HAMMER OF THE GODS, BLAKE, CEREBRAL BORE, IMICUS, ROMEO MUST DIE, AMARANTHE, HELLISH OUTCAST, XERATH.
Jägermeister Acoustic Stage: PIG IRON, GUARDIANS OF ANDROMEDA, ISOLYSIS, INFERNO, OPERATION ERROR, THE LAST IN LINE (RONNIE JAMES DIO tribute act).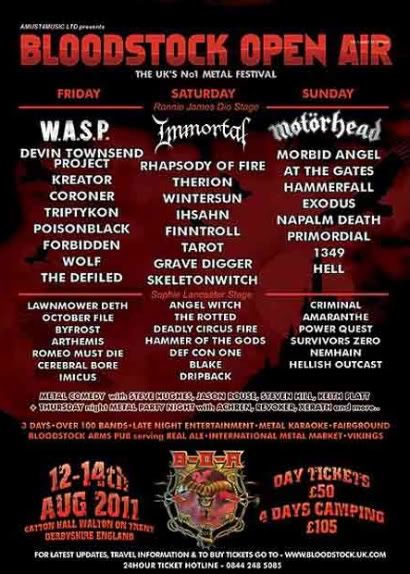 More acts to be announced. Further festival details at this location.