WOODS OF YPRES - David Gold's Mother, Guitarist Joel Violette Discuss JUNO Award Nomination In New Interview
February 21, 2013, 7 years ago
The Canadian Academy of Recording Arts and Sciences (CARAS) recently announced the nominees for the 2013 JUNO Awards in the Metal/Hard Music Album Of The Year category.
They are as follows:
CANCER BATS - Dead Set On Living (Distort/Universal)
CASTLE - Blacklands (Prosthetic/Sony)
DEVIN TOWNSEND PROJECT - Epicloud (HevyDevy/eOne)
EX DEO - Caligvla (Napalm/Fontana North)
WOODS OF YPRES - Woods 5: Grey Skies & Electric Light (Earache/eOne)
Sadly, Woods Of Ypres founder/frontman David Gold passed away in December 2011 before Woods 5's official release. Michael Purvis at SaultStar.com - based in Gold's home town of Sault Ste. Marie, Ontario - caught up with Gold's mother, Esther, and Woods Of Ypres guitarist Joel Violette to discuss the nomination. An excerpt from the article is available below: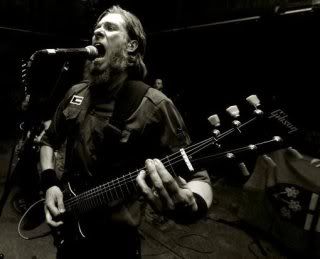 David Gold's mother says it didn't come as a complete shock when her late son's bandmate called on Tuesday to tell her their final album had been nominated for a Juno Award.
She was there, after all, to see how excited David was when he finished writing it.
"He came running from the backyard into the house and said, 'Mom, this is the best album so far,'" recalled Esther Gold.
Woods of Ypres' fifth album, Woods 5: Grey Skies and Electric Light, is among five albums up for best Metal/Hard Music Album of the Year at this year's Junos, which are set to take place April 21 in Regina.
"It's a massive honour," said Joel Violette, the blackened doom metal band's lead guitarist.
The disc was released in February, 2012, less than two months after Gold, 31, the band's longtime driving force, was struck and killed by a vehicle on Dec. 21 on Highway 400, south of Barrie.
Violette said he and Gold had spent a month the summer before at Gold's mothers house in the Sault writing the new album.
Violette said they knew they had something good early on.
"Every song we came up with, it was just like we were pleased with it. Some songs take a lot more hammering to get into shape, but these ones, we only wanted to fine tune them because they already had a good shape," said Violette. "Anyone who listens to it for the first time after (Gold's death), it becomes a person who has passed away talking to you about death. It becomes a completely different beast".
Click here for the complete article.