WRATH - New Vocalist Makes Live Debut, Original Singer Returns For "Unplanned One Song Reunion"
April 29, 2012, 8 years ago
Illinois-based metallers WRATH, who recently parted ways with vocalist Kurt Grayson, have checked in with the following update:
"Last night's show was unbelievably off the hook! A spontaneous, unplanned one song reunion of the original 'Children Of The Wicked' from Fit Of Anger album - Gary Golwitzer, Gary Modica, Mike Nyrkannen, Rick Rios, and Scott Nyquist! The awesome debut of new vocalist Scott Matrise, and hordes of familiar faces all coming together. Perfect night!"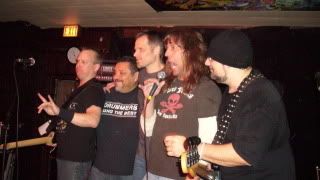 Video footage from the gig is available here.
The setlist on the night was as follows:
'Within'
'Insane Society'
'Heads Hung In Shame'
'Retaliation'
'Conquered, Divided'
'R.I.P.'
'Clean My Wounds'
'Children of the Wicked'
'Payment Due'
'Test of Faith'
'Licking Wounds'
'Ace of Spades'
More photos from the show can be found here.