NIGHTWISH Bassist / Vocalist MARCO HIETALA - From Iron To Imaginarium
June 4, 2011, 10 years ago
Kicking around their native Finland since the early '80s, Tarot were seemingly destined to remain cult favourites within their homeland's borders. Six albums into their career, however, co-founder/bassist/vocalist Marco Hietala took up the offer to join Nightwish and they stopped being Finland's best kept secret. His presence had a profound effect on the Nightwish sound, creating an entirely new vocal dynamic on the Century Child record (2002) paired up against Tarja Turunen that, along with new orchestral elements, laid the foundation for the band's runaway 2004 breakthrough album, Once. Hietala's return to Tarot in 2006 resulted in Crows Fly Black, a record that garnered international attention and resulted in a new fanbase hungry for more; past, present and future.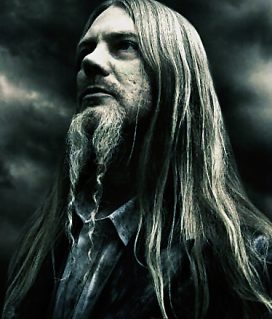 This year Tarot celebrates the 25th anniversary of their debut album, Spell Of Iron. To mark the occasion they've chosen to resurrect and reboot the past with Spell Of Iron MMXI, a record that will please the band's newer fans and, as expected, has Tarot's veteran followers asking why the band found it necessary to fix what wasn't broken.
"I've heard that question," laughs Hietala. "Of course, in Finland the situation is a bit different because the album has this status of being a pioneer work. It was a breakthrough album and people still remember that. We're still proud of that and we still get a lot of respect for it, but this is a quarter-of-a-century anniversary and we have a lot of new fans in Finland and all over the world that don't know very much about those old songs."
"The idea surfaced last year," he says of re-making the album, "and with the Nightwish recordings going on and no touring set up until next January, there was time to do it. The funny thing is, I moved back to my home town where the rest of the Tarot guys live and so did Tommi (Salmela / backing and lead vocals), so we ended up using my home studio and Janne's (Tolsa / keyboards). I recorded guitars, vocals and bass, Tommi and I did all the backing vocals, and Janne recorded the drums, arranged some keyboards, and actually mixed and mastered the whole album. So it really was all done by the band alone."
Some of the fans that have lived with Spell Of Iron for the last 25 years weren't impressed with Tarot's intention of going back and rewriting history, even though the band is a much stronger outfit in this day and age. Against all odds, Spell Of Iron MMXI does in fact stand tall alongside last year's Gravity Of Light album and Crows Fly Black.
"There's a bit of a split opinion because some people didn't take it the right way," Hietala concedes. "Then again, there are a lot of people who think it's great to be able to hear these songs in a new light, because we were able to add to the whole thing. Like I said, we got all kinds of respect for the original, and that's because it came out at a certain point in time. It has this young, boyish enthusiasm and energy, so we wanted to do this new version differently. We actually had full arranging sessions where we changed tempos and structures of some of the songs. We kept the original melodies and certain guitar riffs, but we went through the whole rhythm section and changed some parts completely. With the line-up we have now – with only one guitar, keyboards, and a second vocalist – we had plenty of opportunity to break into something new."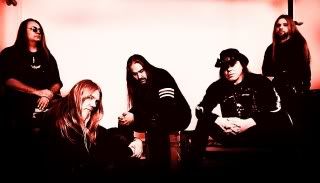 In essence, Spell Of Iron MMXI is a new album for Tarot as well, rather than being a mere walk-in-the-park update of the original record.
"Yeah, sure. We'd been doing some re-arranging at the beginning, and eventually I said 'What the hell, let's take this all the way to the end…' to the point where I re-wrote some of the lyrics (laughs). The ideas are basically the same, but my point of view changed here and there compared to the original album. Some things changed just a little and other things changed quite a lot. But, the songs are still recognizable and you get the same basic ideas as on the original."
One thing that has most certainly changed is Hietala's voice, which has become stronger over the years. It's this voice that pointed the largely oblivious Nightwish throng to Tarot once he'd established himself as an irreplaceable part of the band's line-up on the Century Child album.
"I have to tell you, this was easier to do that the original version," he admits. "I think it came from just having the experience and having developed a technique. My voice is stronger now, basically. Of course, there's this little point that I don't have to sing as much because Tommy is there to do half the work (laughs)."
With Tarot being an active and touring band – whenever Nightwish has downtime – some songs from Spell Of Iron are mainstays of the live set. Hietala says there wasn't really a sense of rediscovery in going back in time, but he definitely had a new perspective on what worked and what didn't when listening to the original recordings again.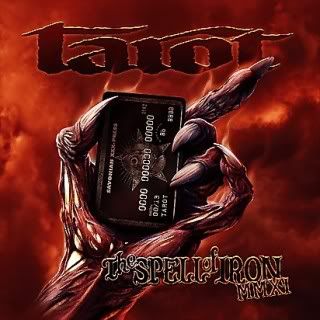 "When you look back over the things you've done over the past 25 years, there are always those moments where you think they are slightly '…ugh…' (laughs). Some things could have been more polished, but I'm a bit surprised that those songs still manage to kick some butt. I hadn't listened to the album all the way through in about 15 years, so when I did I was thinking 'You know, this is actually a pretty good package.'"
"Like I said, I love how the old album has this boyish over-tempo feel all the way through, and I think that fed us a bit when we were recording the new album. I was surprised that we were able to bring out that same basic groove and put that attitude up front. There's a relaxed and even kind of a punkish attitude in some of the straighter songs. That was a good surprise for me."
With one new album under his belt for 2011, Hietala's focus is now on the forthcoming Nightwish album, Imaginarium. Still a work in progress, it's not expected to surface until early 2012.
"I've recorded all my stuff," he reveals. "All my vocals and basses are done, a couple acoustic guitar things. And the mixes for those parts have also been done, already."
With regards to the extended wait for Imaginarium, Hietala admits he's in the same boat as the fans and is chomping at the bit to hear the final product.
"That sucks for me personally," he says of the wait, "but the reason for that is we still have the movie in the works as well, and it's going to take some time for it to be finished. The album and the movie go pretty much hand-in-hand because the whole movie is built around the music of the album. We decided to push the release so that we can put them out together."
Imaginarium is the next blockbuster step of the Nightwish legacy, guaranteed to put the buzz surrounding the previous album, Dark Passion Play, to shame when it hits. Things have gotten to the point where it's not hard to imagine Hietala considers Tarot a needed vacation from the insanity of being part of Finland's biggest ever metal export.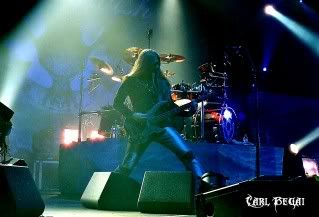 "Yeah, that's true. With Nightwish, I'm all for the ambition that's behind the whole thing. It's really interesting to do all that. I'm waiting with my tongue hanging out for all the personal shoots for the movie, but Tarot gives me the chance to put my feet back on the ground, playing clubs where the people are right in front of my face. I'm actually able to put the cables in my own bass gear, which is a nice change (laughs)."
"I love playing anywhere, don't get me wrong, but I still love the clubs. It's close and intimate, it's where you get the best vibe and the best groove. And, of course, with the clubs you usually get the best sound… depending on the equipment (laughs). The big halls are always problematic."
Asked to give folks an idea of what's in store with Imaginarium, without pissing off the powers that be by letting too many cats out of a very big bag, Hietala does his best:
"I have an idea of it, but I'm not sure how to put that into words (laughs). Big and bombastic, there's going to be that stuff. People will be able to recognize the music as Nightwish, but I think if there's something we managed to do differently this time it's overcome the preconceptions of what this band should sound like. There's a hell of a lot of musical variety on the album, and for myself I can honestly say that when we were doing Dark Passion Play – rehearsing and all that – I was sure it was going to be a good album. This time around, when we started rehearsing these songs, I was immediately sure about the same thing maybe ten times more (laughs). I just have a feeling it's going to be a killer album."
Once released, the Nightwish touring machine will be fired up for another long haul, but it won't be as intense a schedule as the one for Dark Passion Play.
"We have to take things like our families into consideration for the next tour, so we'll have to work the schedules. This time around I don't think we're going to be two years of touring. We've also figured out that if we're doing four weeks in a row, we should keep a minimum of three weeks at home for those of us that have families. I think we all needed a real vacation after the last tour. We had to totally clean out our systems after that. So, in a way this will be a new Nightwish that you'll be seeing on the road."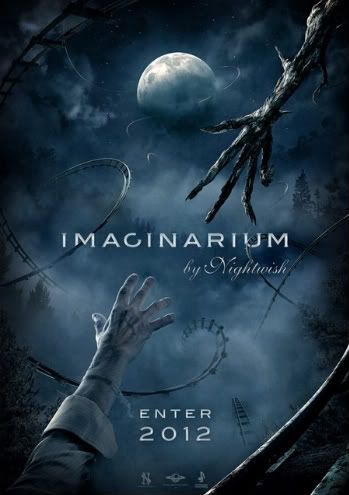 (Live photo by Carl Begai)