EPICA To Celebrate 10th Anniversary With Special Retrospect Performance; Video Message Posted
September 13, 2012, 8 years ago
On March 23rd, 2013, internationally renowned metal band EPICA will celebrate their 10th anniversary with a special performance, entitled Retrospect, which will take place in the Klokgebouw in Eindhoven, in their home country the Netherlands.
Retrospect will be Epica's most ambitious project to date, joined by a 70-piece symphonic orchestra and choir, international guests and lots of special effects.
Watch an online message from the band below:
Tickets will go on sale on September 15th at 10 AM (GMT+1) and will be available through the websites of Epica and Klokgebouw.
Especially for this show the band has invited the Hungarian Extended Remenyi Ede Chamber Orchestra and Choir of Miskolc National Theatre, the same orchestra and choir with whom Epica recorded the highly acclaimed live album, The Classical Conspiracy. This anniversary show will be a Retrospect on Epica's career and will contain all trademark elements you can expect from Epica.
Tickets will cost €35,- + service costs until October 1st, and are available through the following websites: epica.nl, epica-retrospect.com and klokgebouw.nl.
Special VIP-tickets are available as well and cost €65,- + service costs. VIPs will get early access to the venue and exclusive VIP goodies. From October 1st the price will increase by €4 for both normal and VIP tickets.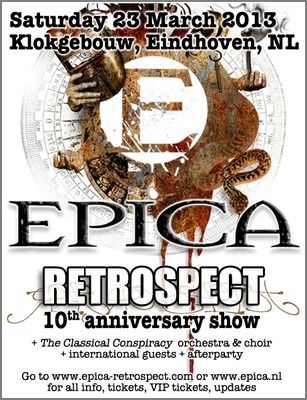 Epica recently took part in a very special recording session, and a video was made for the upcoming Dutch NTR TV show, Niks Te Gek, in which mentally disabled persons can make their dreams come true.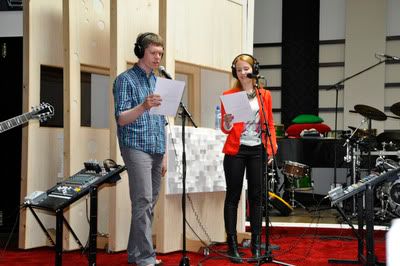 Ruurd Woltring's biggest wish was to record one of his songs with Epica, so the band took his music and lyrics, re-arranged it into an Epica song and invited him into the studio.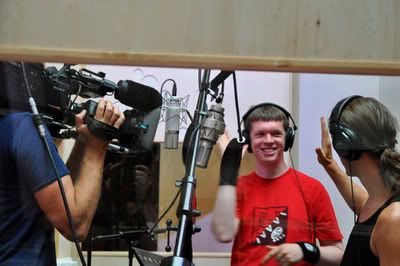 The whole episode of Niks Te Gek with Ruurd Woltring and Epica will be broadcast in the Netherlands on September 16th on the Dutch TV channel Nederland 2.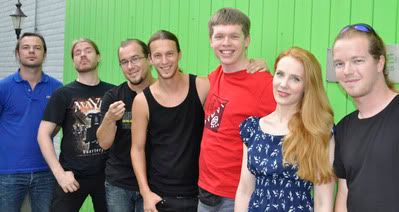 Check out the video below:
Epica recently announced a venue change for their upcoming South American tour. Originally slated to take place at Teatro Metropolitano, the band's September 22nd show in Bogota, Colombia will now take place at Downtown Majestic (capacity: 1,800).
Epica's South/Latin American tour schedule is now as follows:
September
16 - CIFCO - San Salvador, El Salvador
18 - Salon Porvenir De Los Obreros - Guatemala City, Guatemala
19 - Pepper's Club- San Jose, Costa Rica
21 - Teatro Universidad - Medellin, Colombia
22 - Downtown Majestic - Bogota, Colombia
25 - Teatro Flores - Buenos Aires, Argentina
26 - Teatro Caupolican - Santiago, Chile
28 - Via Funchal - Sao Paulo, Brazil
29 - Fundicao Progresso - Rio de Janeiro, Brazil
30 - Opiniao Bar - Porto Alegre, Brazil
October
2 - Teatro Plaza- Montevideo, Uruguay
3 - Club Sport Colombia de Fernando de la Mora - Asunción, Paraguay
5 - Auditorio Blackberry - Mexico City, Mexico