MACHINE HEAD Frontman Robb Flynn - "I've Been Singing 15 Years Now, I'm Going To Start Taking Lessons"
July 20, 2011, 10 years ago
MACHINE HEAD frontman Robb Flynn recently spoke with Charlie Steffens at KNAC.com about the band's new album, Unto The Locust. An excerpt is available below: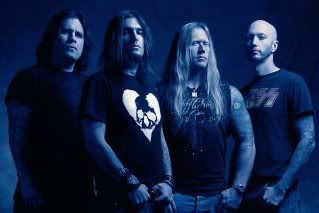 Flynn: "For this record, I really wanted to try and bring in some new stuff to the picture. During the course of The Blackening we had recorded a cover of IRON MAIDEN's 'Hallowed Be Thy Name'. We agreed to do it, based on the fact that it's one of our favorite songs and because we felt it would be a challenge and it would be a song that no one would really want to take on because it's a pretty fuckin' epic song. I wasn't really certain if I could sing that high and pull it off. I knew I could hit the notes but I wanted it to sound real and heavy. I didn't want it to sound thin and weak, like some singers sound. To my surprise, I actually pulled it off and did it a lot better than I thought I was going to. It really pushed me. Then a friend of the family passed away. It was pretty sad, and I recorded a cover of HEAVEN & HELL's 'Die Young'. It was just me on acoustic. Pretty high notes RJD's hitting there at the end. The perfect grit. It's the perfect fucking grit."
KNAC.com: Not a 40 or 60 grit, but something smoother, right?
Flynn: "It's a finer grit. It's not too gritty. I've always respected that guy, but when I really tried to emulate that sound my respect for the man grew like ten-fold. He had what was probably the perfect grit for a hard rock singer. He'd hit those super high notes, but just add that grit to it. It wasn't clean. It still had a throatiness to it that was fuckin' awesome. I challenged myself. I finally got it. I was thinking, 'You know, I've been singing fifteen years now. I'm going to start taking lessons.' I've taken a few lessons before and I've done warm-ups that my friend showed me. I did some pretty intensive vocal training with Melissa Cross, and then again with a guy named Don Lawrence, like three day/three hour sessions. And at the same time, I started taking classical guitar lessons. I used to be pretty good at it, but I actually wanted to get some theory behind it. To put myself in that place where I feel like a complete retard. 'These fingers won't work!' To be back in that vulnerable place where you don't know what you're doing. It was awesome. Like, after all these years of doing this to go and learn...I just fully went into this learning mode. I know that came out with the new record. There's a big, classical element to it. Some of the vocal range is definitely the highest that I've ever hit. I feel like I've really pulled it off and I sang my ass off. I'm really proud of what we were able to accomplish on the record."
Go to this location for the complete interview.
Metal Hammer are set to release Machine Head's new album, Unto The Locust, on September 26th in the UK with a special edition fan-pack.
Complete with 132–page special issue complete with exclusive behind-the-scenes access to the making of the new album, extensive interviews with every member, never-before-seen historic shots from the band's personal collections, a guide to their custom rigs, and a diary of their massive Mayhem tour happening this summer, this is the ultimate companion to the long-awaited follow-up to The Blackening, Metal Hammer's album of the decade. And that's not all. This exclusive fanpack also includes a 100% official patch, sticker sheet and poster. This is your chance to be part of Machine Head history!
"This is gonna be fucking awesome! It's ridiculous," says Robb Flynn of the venture. "I can't believe that there's going to be a magazine about us with a special edition of our new album. It's pretty mindblowing, really. It's something really fuckin' cool for the fans, and it's something incredible for us too. We're all really stoked on this new record and we can't wait for everyone to hear what we've been doing in the studio. Releasing it this way on newsstands (not just record stores) makes it way cooler! You guys know how to make magazines, man! People over here in the US need to look at the UK and how you make magazines.
"You guys make people care about this stuff and you're real music fans. Get your niche and fuckin' ride it! People want cool shit and cool interviews. We're pumped about the whole idea"

Pre-order this special edition here.
In the video footage below, Machine Head guitarist Phil Demmel talks about the work in progress for the band's new album, Unto The Locust, due in September:
Unto The Locust is due out September 27th via Roadrunner Records. The album is currently being recorded at JingleTown Studios in Oakland, with frontman Robb Flynn producing.
The first single 'Locust' is on sale now via Amazon. Click on icon below to hear a snippet of the song and to order
Musically, the song is the essence of what Machine Head have been doing for nearly two decades.
"It feels like the culmination of what we've been doing for the last 17 years: power grooves, patented Machine Head harmonics, crushing guitars and dark melodies, but taken to a new level," Flynn said. "It's a natural progression from The Blackening, but different than anything on that record. In the past, when we debuted a new song, it was usually the fastest, thrashiest tune. This time we wanted to go with something just straight-up heavy."