MORBID ANGEL, AT THE GATES, DEICIDE, MUNICIPAL WASTE Featured In New Live Performance DVD Set
November 8, 2011, 10 years ago
Maximum Metal, the new DVD set featuring four live performances from MORBID ANGEL, AT THE GATES, DEICIDE, and MUNICIPAL WASTE is now available for preorder.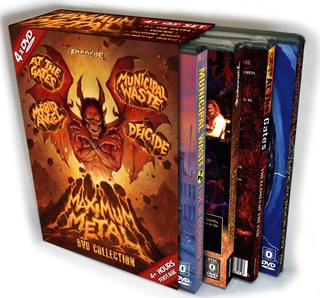 Maximum Metal will be released on November 21st via Earache Records, and includes the following live shows:
DVD one:
Morbid Angel - Live Madness '89
Recorded live at Nottingham Rock City 14th November 1989
Tracklisting:
'Immortal Rites'
'Suffocation'
'Visions From The Darkside'
'Maze Of Torment'
'Chapel Of Ghouls'
'Guitar Solo'
'Bleed For The Devil'
'Damnation'
'Blasphemy'
'Lord Of All Fevers And Plague'
'Evil Spells'
DVD two:
Deicide - Doomsday L.A.
Recorded live at Knitting Factory, L.A., 10 November 2006
Tracklisting:
'Intro'
'Dead By Dawn'
'Once Upon The Cross'
'Scars Of The Crucifix'
'The Stench Of Redemption'
'Death To Jesus'
'When Satan Rules His World'
'Serpents of the Light'
'They Are The Children Of The Underworld'
'Desecration'
'Bastards Of Christ'
'Dead But Dreaming'
'Trifixion'
'When Heaven Burns'
'Walk With the Devil in Dreams You Behold'
'Homage For Satan'
'Kill The Christian'
'Sacrificial Suicide'
Extras:
25 minute interview with all band members.
Video for 'Homage For Satan'.
TV ad for 'The Stench Of Redemption'.
DVD three:
At The Gates - Purgatory Unleashed - Live At Wacken
Live set shot multi camera with sound mixed by Tue Madsen
'Intro' (backstage)
'Slaughter Of The Soul'
'Cold'
'Terminal Spirit Disease'
'Raped By The Light Of Christ'
'Under A Serpent Sun'
'Windows'
'World Of Lies'
'The Burning Darkness'
'The Swarm'
'Forever Blind'
'Nausea'
'The Beautiful Wound'
'Unto Others'
'All Life Ends'
'Need'
'Blinded By Fear'
'Suicide Nation'
'Kingdom Gone'
DVD four:
Municipal Waste - Live In Richmond 2006
Recorded live at Alley Katz August 18th 2006
Tracklisting:
'The Wizard' (speech)
'Intro/Deathripper'
'Drunk As Shit'
'Mind Eraser'
'Unleash The Bastards'
'The Thrashing Of The Christ'
'Sweet Attack'
'Mutants Of War'
'Accelerated Vision'
'Blood Drive'
'New Song'
'Terror Shark'
'Toxic Revolution'
'Substitute Creature'
'Waste 'Em All'
'Bangover'
To order the DVD in Europe go here. For the America pre order visit this location.
Watch the video teaser for the Maximum Metal four-DVD set below: