PIROSAINT To Release First New Album In 15 Year; Auditioning Vocalists
March 17, 2012, 8 years ago
Newly reborn Chilean metallers PIROSAINT have announced that they will start the recordings of a brand new album – Their first in almost 15 years.
The band, featuring new members, has started the recording of the new EP at Oily Sound Studios in New Windsor, NY. The new material is expected to be released by May/June of this year.
Vocal parts on the new album are going to be done by a friend of the band. The name of the vocalist will be revealed prior the release of the album.
The band is currently looking for their new singer in the Poughkeepsie, NY area.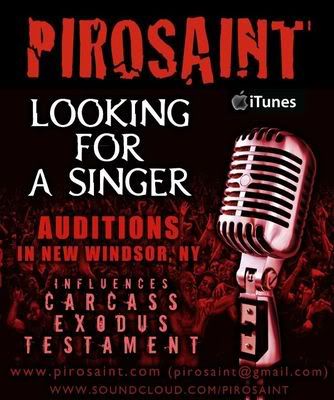 The band will be auditioning new vocalists every Saturday until they find who they are looking for. Auditions are being held in New Windsor, NY.
Interested parties are asked to contact pirosaint@gmail.com or call 1-845-554-3139.
The instrumental demo version of the track 'The Debt That All Man Pay' can be heard below:
According to a press release: "Original drummer Ignacio Orellana has been working hard on putting back together his original band with help of his latest band mate Ron Buckner, since last May 2011, when they decided to leave DOWNFIRE, to re activate Pirosaint."
Current line up is:
Bill Smith - guitars
Ron Buckner - bass
Ignacio Orellana - drums
Guest musician - vocals
For more info on Pirosaint visit their website.