ROCK MEETS CLASSIC Confirm BONNIE TYLER For 2013 European Tour, Dates Announced
September 1, 2012, 9 years ago
Organizers for the 2013 edition of the annual ROCK MEETS CLASSIC tour through Europe have confirmed vocalist BONNIE TYLER for the line-up:
"Our very special guest on the Original Rock Meets Classic tour 2013 will be Bonnie Tyler, with a Best Of setlist including the perfect Rock Meets Classic anthem 'Total Eclipse Of The Heart' - enjoy!"
Rock Meets Classic have also confirmed former JOURNEY frontman Steve Augeri, MANFRED MANN'S EARTH BAND's Chris Thompsom, FREE / BAD COMPANY vocalist Paul Rodgers and THE HOOTERS' Eric Bazilian for the February/March run. In addition, PRIMAL FEAR drummer Randy Black has been confirmed as the man behind the kit for the tour. He joins his Primal Fear bandmates Mat Sinner (bass/master of ceremonies), Alex Beyrodt (guitars) and Ralf Scheepers (backing vocals) as part of THE MAT SINNER BAND.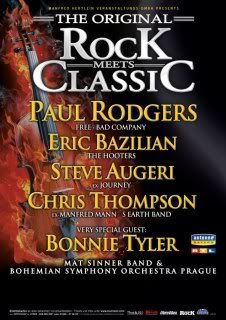 Now into its fourth year, Rock Meets Classic showcases classic rock artists of the '70s and '80s performing their hits backed by a full-on rock band and an orchestra. Artists that have taken part in previous tours include Ian Gillan (DEEP PURPLE), Dan McCafferty (NAZARETH), Steve Lukather (TOTO), Lou Gramm (FOREIGNER), Chris Thompson (MANFRED MAN'S EARTH BAND) and Jimi Jamison (SURVIVOR).
The Mat Sinner Band also features TRILLIUM / AVANTASIA's Amanda Somerville (backing vocals), Avantasia's Oliver Hartmann (guitars), Jimmy Kresic (keyboards), Tiffany Kirkland (backing vocals) and Verena Schock (backing vocals).
Confirmed dates for the 2013 are as follows:
February
18 - Berlin, Germany - Max Schmeling Halle
19 - Rostock, Germany- Stadthalle
22 - Halle/Westfalen, Germany - Gerry Weber
23 - Essen, Germany - Grugahalle
25 - Frankfurt, Germany - Jahrhunderthalle
26 - Hof, Germany - Freiheitshalle
27 - Passau, Germany - Dreiländerhalle
March
1 - Prague, Czech Republic - Tipsport Arena
2 - Ingolstadt, Germany - Saturnarena
3 - Neu-Ulm, Germany - Ratiopharm Arena
5 - Landshut, Germany - Sparkassen-Arena
6 - München, Germany - Olympiahalle
8 - Mannheim, Germany - SAP-Arena
9 - Nürnberg, Germany - Arena
10 - Würzburg, Germany - S. Oliver Arena
11 - Saarbrücken, Germany - Saarlandhalle
13 - Stuttgart, Germany - Porsche Arena
15 - Kempten, Germany - Big Box
16 - Regensburg, Germany - Donauarena
17 - Zürich, Switzerland - Hallenstadion