THE YARDBIRDS' Chris Dreja Discusses Photographing LED ZEPPELIN
April 26, 2011, 11 years ago
UGO.com's Greg Prato has issued an interview with THE YARDBIRDS' rhythm guitarist Chris Dreja, who also took the classic photo of LED ZEPPELIN for the back cover of Led Zeppelin I. The following is an excerpt:
Q: What are some memories of taking the classic photo of Led Zeppelin for the back cover of Led Zeppelin I?
A: "I always got on well with Jimmy (Page) especially with photos of him, so it was nice to be approached for the photography of the very first album. It was early days for me as a studio photographer so it was a very simple shot. Apart from Jimmy who was already pretty well known, the others were charming, polite and shy and it was very interesting to me when a couple of years later when I photographed the band again, how much they had changed and grown in stature apart from John Bonham who had grown an obvious problem, and seemed oblivious to the whole session, not the innocent young man I had photographed on the album."
Read the full interview at this location.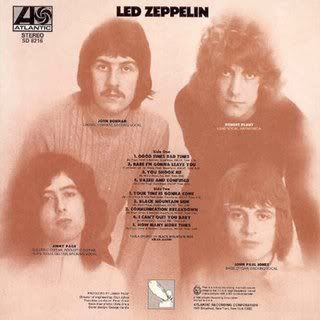 Matt Warnock at Guitar International recently caught up with guitarist legend Anthony "Top" Topham, the original guitarist for The Yardbirds. An excerpt from the in-depth interview is available below:
Matt: You're obviously a big lover of the blues, but you also like JEFF BECK, who went in different musical directions after he left the Yardbirds. You also had to leave that band very early on, because you were so young and your parents had issues with you being in clubs late at night. How do you feel about the direction that the Yardbirds took after you left the band?
Top Topham: "It's interesting really. I saw them, obviously, through those years with all those different aspects, with Jeff Beck in the band, with JIMMY PAGE in the band, with both of them in the band at the same time. I think that they produced three or four really good records and wrote some really interesting material, some very beautiful songs. I can't say that I ever loved the music particularly. If I'm going to be absolutely honest, it wasn't my kind of band. If I had stayed in the band, I think I would have been pushing, like ERIC CLAPTON did, to keep the blues as the focus of the band. You have to bear in mind, that in those early days we hadn't even heard B.B. KING. [Laughs] If you haven't heard that music before and then you hear Live At The Regal, you can't really be the same after that.
Matt: I've heard rumors that you were approached by Jimmy Page to join LED ZEPPELIN as the second guitarist in the band. Can you address those and put a rest to that story either way?
Top Topham: "Well this is what happened: in 1968 I was making Ascension Heights, my album with Blue Horizon records (CBS), with Mike Vernon as the producer. I received three telegrams, which I still have, from Peter Grant and Jimmy Page,expressing an urgency to get in touch with them,one of these said 'great news for you.' I called them from our local telephone box in Kingston on Thames, Surrey, we didn't have a phone in those days, and I spoke to Jimmy who I saw reasonably regularly. He said he wanted to reform under the name of THE NEW YARDBIRDS and hit America, and asked if I would be interested.
Wait for it, I said no. As I was writing and playing on my own album at that time it seemed like the right choice. Whether he was intending on me being in the band, I know not. It was a flurry of ideas and I would think at that time as he owned the Yardbirds name, which was a very clever move. Also, it's a fact that a pre-Zeppelin album exists under the name the New Yardbirds, and includes much of the same as early Zepp. I believe this has never been released. Who knows? Interestingly, ROBERT PLANT AND THE BAND OF JOY played in our interval at Mothers in Birmingham '67-'68. I was in the Fox and they used my Marshall amp for the gigs. Jimmy played with Duster Bennett and I at an Epsom Art school dance in 64. I remember us all raving about Earl Hooker. I think he played some slide on that gig as well. What goes around comes around, it was all normal, really."
Go to this location for the complete interview.
As previously reported, The Yardbirds (without Topham) will headline the first annual ZepFest, playing all three nights (May 27th, 28th and 29th) of Memorial Day Weekend at the National Harbor on the Potomac River (Waterfront Street and St. George Blvd.) in Prince George's County, MD.
There are a variety of tickets and pricing plans available for the Fest, including one-day events and VIP get-togethers. The full Fest is $325.00, and tickets are available at MissionTix.com. For more information e-mail info@zepfest.com and visit the website ZepFest2011.com.
The ZepFest features over 50 bands on five stages and will include speakers, authors and secret shows. It's also a completely Green festival.
ZepFest CEO and festival director Mark Boudreau says the Fest will include, "Descendants, disciples and influences." There will be blues artists THE NIGHT HAWKS and WILLIE BIG EYES SMITH, contemporaries VANILLA FUDGE, and fans DREAD ZEPPELIN, tribute bands, and guest speakers most notably Atlantic Records' Jerry Greenberg.
The late Pinetop Perkins was scheduled to perform; the entire ZepFest will be dedicated to him.
The Yardbirds' band members will be on hand throughout the day to connect with fans. Guitarist Ben King will be part of the ULTIMATE DREAM BAND, in which a lucky fan gets a shot at playing before the Yardbirds. The band's tour manager, Henry "The Horse" Smith, an original LED ZEPPELIN roadie, will be on hand to tell stories. Jim McCarty will be giving a Q&A; Session. Rhythm guitarist Chris Dreja, who became a professional photographer after the Yardbirds broke up in 1968, will be showing (and selling) photographs, including the iconic back lit shot of JIMMY PAGE, which will be signed by both Jimmy and Chris. A sampling of Chris' work can be seen on his website.
The Yardbirds features original members: rhythm guitarist Chris Dreja and drummer Jim McCarty, and a new generation of musicians: singer/acoustic guitarist/harpist Andy Mitchell (since 2009), bassist David Smale (since 2009), and lead guitarist Ben King (since 2005).
The Yardbirds innovated 1960s guitar, with fuzz tone, feedback, distortion, backwards echo, improved amplification….and using a bow to play guitar. The group paved the way for the careers of ERIC CLAPTON (1963-'65), JEFF BECK ('65-'66), and Jimmy Page (66-'68, first as bassist, then guitarist when Beck left). The group drew some repertoire from the blues acts of the day, including ELMORE JAMES, HOWLIN' WOLF, and BO DIDLEY, and the Yardbirds hits were some of the best songs of the British Invasion: 'For Your Love', 'Heart Full of Soul', 'Shapes of Things', 'I'm A Man', 'Over Under Sideways Down', 'Train Kept A- Rolling', and 'Dazed and Confused'.
The Yardbirds were inducted into the Rock and Roll Hall of Fame in 1992. Soon after the induction, Jim and Chris reformed the Yardbirds, first playing at London's Marquee club with the newly reformed Animals.
In 2003, Steve Vai's Favored Nations label released their album BIRDLAND, an album of new songs that featured guest appearances from STEVE VAI, JOE SATRIANI, SLASH , BRIAN MAY, STEVE LUKATHER and many more. In 2005 guitarist Ben King joined the group, who recorded LIVE AT B.B. KING BLUES CLUB on July 19, 2006. That came out in 2007, included a version of 'I'm A Man' that played on the Simpsons that year.
The Yardbirds has continued to tour. An institution in popular music, blues, rock and roll, the group made an indelible mark on the music and culture of both the 1960s and future generations.