Too Much Trouble - A Very Oral History of DANKO JONES Book Due In October
August 11, 2012, 9 years ago
Too Much Trouble - A Very Oral History of DANKO JONES book will be released by ECW press in October. A description written by Stuart Berman about the 160-page paperback reads as follows:
Danko Jones may be a straight-forward rock band, but their story is anything but. They're a band that has roots in many different music communities - the North American indie-rock scene, the Scandinavian garage-rock scene, the European metal scene - but belong to none of them. They're the only band that's toured with both Blonde Redhead and Nickelback, and they're the only band whose biography could attract a cast of characters that includes Lemmy Kilmister of MOTÖRHEAD, Elijah Wood, Ralph Macchio, Peaches, Dizzy Reed of GUNS N' ROSES, Damian Abraham of FUCKED UP, Jello Biafra of THE DEAD KENNEDYS, George Stroumboulopoulous, Alan Cross, Mike Watt and many others.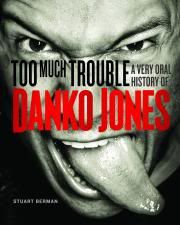 Too Much Trouble is about more than just Danko Jones' history - it's an exploration of the rigid politics that govern both underground and mainstream music, and how a band can succeed without pandering to either.
This is a 15-year saga that goes from college-radio DJ booths to corporate boardrooms, from dingy after-hours boozecans to the biggest festival stages in Europe, marked by encounters with everyone from D.C. riot grrrls to Dublin riot police, from death-metal deities to Hollywood celebrities. And if all this sounds somewhat preposterous, well, as Danko himself would say: this book ain't boastin', it's truthin'.
Danko Jones have released a snippet of their upcoming single, 'Just A Beautiful Day', below on YouTube. The song is from the band's new album, Rock And Roll Is Black And Blue, which is due to be released on October 9th.
Over the course of six full-length albums, Danko Jones has forged a singular sound that draws equally from the blues, '60s garage, '70s hard rock, '80s hardcore, punky power-pop, Scandinavian metal, and classic stand-up comedy records without ever being fully defined by any of those sources. But while built from the same rudiments, each Danko Jones record possesses a distinct sonic identity. Born A Lion (2002) brought the boogie and sledgehammer soul; We Sweat Blood (2003) was, by contrast, more anxious and aggro. Sleep Is the Enemy (2006) wielded the sharpest hooks. Never Too Loud (2008) was as slick as Below the Belt (2010) was stripped-down. But, compared to all that's come before, Rock And Roll Is Black And Blue is, hands down, the most emotional and, as a result, the most epic Danko Jones album to date.
Now, don't be scared off by those E-words - there's not a children's choir, orchestra or piano ballad to be found within a 500-mile radius of this album. But what you hear on Rock And Roll Is Black And Blue is the Danko Jones ideal blown up to skyscraping proportions, resulting in 13 tracks that are bolder, brasher, and brawnier than anything they've attempted before.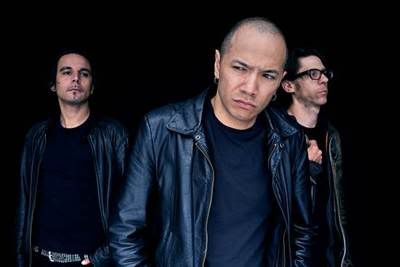 The album is produced in full by their longtime partner in crime Matt DeMatteo and was mixed by Mike Fraser, known for his work with AC/DC, AEROSMITH and others. It is also the first album recorded with "new" drummer Atom Willard - the sixth person in Danko Jones history to hold the "drummer" title, but the first to stand on equal creative footing with Danko and his longtime foil, bassist John "JC" Calabrese. The man's résumé speaks for itself: Not only was Willard the driving percussive force behind Danko's all-time favorite San Diegan garage-punk armada ROCKET FROM THE CRYPT, he's also been keeping time for the multi-platinum likes of THE OFFSPRING, SOCIAL DISTORTION and ANGELS & AIRWAVES, so he knows how to drum his way around a massive tune.
The new album follows the June release of Bring On The Mountain – a two disc DVD featuring a 90 minute documentary, a short film, exclusive live clips from around the world and all the music videos they have ever done.
A trailer for Rock And Roll Is Black And Blue can be viewed below:
Danko Jones recently updated their European tour schedule for the fall with dates in Finland, Germany, Austria and The Netherlands. Check it out below:
October
16 - The Circus - Helsinki, Finland
17 - Debaser Medis - Stockholm, Sweden
18 - Pustervik - Göteborg, Sweden
19 - John Dee - Oslo, Norway
20 - KB - Malmö, Sweden
21 - Docks - Hamburg, Germany
23 - Schlachthof - Bremen, Germany
24 - Melkweg - Amsterdam, Netherlands
29 - Arena - Vienna, Austria
30 - Longhorn LKA - Stuttgart, Germany
31 - Theaterfabrik - Munich, Germany
November
1 - Postbahnhof - Berlin, Germany
3 - Batschkapp - Frankfurt, Germany
More dates will be announced soon. More on Danko Jones at this location.