ANTHRAX' Frank Bello Says Covers Album Set For Fall Release; To Feature RUSH, BOSTON Classics
July 30, 2012, 7 years ago
By Matthew O'Shaughnessy from WVOX.com's Metal Mayhem.
The Bronx, New York has given birth to many celebrity actors, internationally-known Italian restaurants and, of course, heavy metal titans ANTHRAX who are currently tearing up the road with SLAYER, SLIPKNOT, MOTÖRHEAD and more on the The Rock Star Energy Drink Mayhem Festival. Bassist Frank Bello recently checked in from the road sounding completely upbeat and stoked about the current road trek and upcoming gigs with TESTAMENT and DEATH ANGEL, and more dates in Europe with Motörhead after the Mayhem Festival.
WVOX.com: To say that Anthrax is having fun on the Mayhem Festival is an understatement. We hear that the tour is going exceptionally well.
Frank Bello: "This is exactly what we needed for state-side touring. It's been great! It's just been a blast. This thing is a rage! We're headlining, as you know, the second stage and we're on at 5:20pm every night and it's 40 minutes of sheer brutal stuff, man. It's really great. People come out and it's packed every night. It's just a crazy time. The pits are insane. Then, when we get done with our show, I can go watch Slayer, Slipknot and Motörhead – it's kind of great!"
WVOX.com: How much music has Anthrax been in a position to feature on the Rock Star Energy Mayhem Festival?
Frank Bello: "We get forty minutes, so we call it 'the punch in the face' – we just want to leave them wanting more. A complete rage of forty minutes. It's just non-stop.The good thing is the fans have been wanting more. It's a great, great tour."
WVOX.com: The tour kicked off on June 30th in San Bernadino , California and has now worked its way to the East Coast. What has the camaraderie been like with Slayer, Slipknot, Motörhead and the other bands?
Frank Bello: "It's been a big summer camp! We do a 928 shot of Jägermeister in Slayer's dressing room every night to celebrate the tour. And that pretty much ignites the rest of the evening. It's been a big summer camp hanging out with your friends. This is a big party with a lot of great music involved. That's exactly the best way I can describe it. It's a blast. I recommend anyone who hasn't had tickets to see this tour, to come out. It's going to be sad to see it end one day. But it has been a blast! It's a good vibe."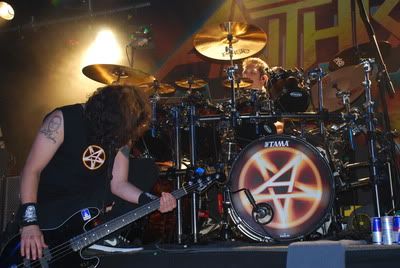 WVOX.com: You're set-list is unique for this tour, having forty minutes to perform.
Frank Bello: "This is the best of Anthrax with one new song. It's been posted everywhere. We just put it all out there."
WVOX.com: What's every day life like on The Rock Star Energy Drink Mayhem Festival?
Frank Bello: "It's been pretty non-stop honestly. Nobody is complaining about this lifestyle. I know how lucky I am. I've been doing bass clinics in between these shows at Sam Ash's around the country. I've doing six bass clinics for my new bass that's out now. As far as life on the road is; I get up at ten or eleven in the morning; go eat some breakfast, do some interviews, we have a Rock Star Energy Drink signing at three o'clock . You go back in get ready for the show, stretch out and we go on at five twenty and we rage. And then after that, maybe some more interviews, eat some dinner and then the party starts with the Jägermeister."
WVOX.com: Anthrax came roaring out of the Bronx, New York in the early 1980's and fast made an international name for themselves in heavy metal. After thirty-plus years, what are your thoughts on the bands longevity and success?
Frank Bello: "I think after thirty - one years and seeing the young generation that's coming up of Anthrax fans and we are specifically seeing it on this tour; there's a whole new generation of Father's and brother's bringing their kids out. It's just been a really great time. So, there's a whole new generation along with our regular fan-base. It's really a passing of the torch. So, to see that just inspires us more, it really sparks you up. It really does."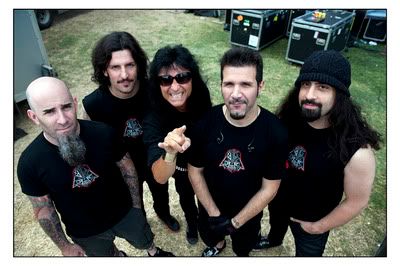 WVOX.com: Anthrax has forever put their stamp on New York metal and for that matter all over the world. What are the bands plans for writing new material? What's on the agenda for a Worship Music follow up?
Frank Bello: "Actually, what we are planning on doing is doing some covers. We're doing some cover versions of songs and re-releasing the record in the fall with some special cover songs such as a RUSH track and a BOSTON song. It's gonna be great. Some really cool stuff which I think people are really going to dig. And we also have a lot more touring to do; we're going out with Motörhead in Europe in November and then we're on the road with Testament and Death Angel."
Wvox.com: What's your message for your world-wide fans?
Frank Bello: "Thank you! You know we are all family. I really mean that. I love you all."