ANTHRAX To Dedicate Song To JUDAS PRIEST On New Album
April 21, 2011, 8 years ago
Greg Prato from Rolling Stone caught up with ANTHRAX drummer Charlie Benante recently and talked about the band's long-awaited new album, Worship Music, the Big Four shows, JUDAS PRIEST, helping METALLICA early on and creating rap metal. Here are a few excerpts from the chat: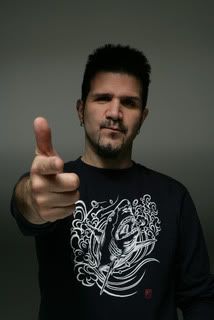 Let's talk about the upcoming album, Worship Music.
Benante: "When we continued working on this record again with Joey, the first song he sang when we all heard it, we all got goose bumps. It sounded like Anthrax again – it was that "sound" again.
How much of the music of the unreleased version of Worship Music is being used on this version?
Benante: "Musically, a lot of the songs are the same, because a lot of the music was written prior to that. And then Scott (Ian, Anthrax's guitarist) changed a lot of the lyrics now. I rewrote three or four songs, and just finished doing the last drum track to the last song like about a week ago. We went back in and rerecorded some of those songs, too. Because I play them now with a different energy, there's a different vibe to the songs. I just felt like I wanted to go in and with this new energy, bring it to the record.
What are some song titles?
Benante: "'Fight 'Em 'Til You Can't', there's a song called 'I'm Alive', there's a song called 'Judas Priest' – it may change, but we like that title, because Judas Priest has called it quits, and it's going to be the last hurrah for them. We wanted to dedicate that song to them."
Will Joey remain Anthrax's singer from here on out?
Benante: "100 percent. This is the band."
Read the entire interview here.